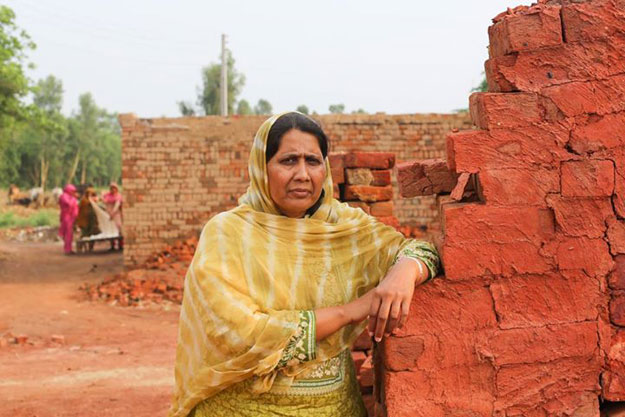 ---
Brandon Stanton, during his short visit, has captured breathtaking images of our countrymen, publishing their stories and managing to show the world another side of Pakistan.

The creator of Humans of New York (HONY) has, however, outdone himself this time, helping raise around $1.3 million through a remarkable seven-photo series depicting the struggle of a Pakistani female activist fighting against bonded labour.

Stanton set up an account for Syeda Ghulam Fatima, titled 'Let's help Fatima end bonded labour', raising $1,302,440 for the Bonded Labor Liberation Front in just three days.




In the first post of the series, Stanton wrote, "Meet Syeda Ghulam Fatima. Described as a modern day Harriet Tubman, Fatima has devoted her life to ending bonded labor."

Describing her ordeal, he further narrated, "She has been shot, electrocuted, and beaten numerous times for her activism. Quite literally, she places herself between the workers and their owners. The organization she leads, the Bonded Labour Liberation Front, is small but determined. It is working to set up Freedom Centers throughout rural Pakistan so that every bonded laborer has access to advocacy and legal aid. Fatima operates on a very small budget."

Read: HONY's portrait of abuse victim from Lahore prompts heartwarming response








Stanton further revealed that he was introduced to Fatima's work by a journalist named Fazeelat Aslam, who had done a piece on Fatima for Vice News.








Explaining how bonded labour works, Stanton wrote in the same post, "Throughout rural Pakistan, illiterate and desperate laborers are tricked into accepting small loans in exchange for agreeing to work at brick kilns for a small period of time. But due to predatory terms, their debt balloons, growing larger as time goes on, with no possibility of repayment, until these laborers are condemned to work for the rest of their lives for no compensation. If the laborer dies, the debt is passed on to his or her children."

Stanton pointed out that the practice is illegal in Pakistan "but due to the extreme power and wealth of brick kiln owners, the law is often unenforced in rural areas. It is estimated that well over one million men, women, and children are trapped in this modern feudalist system."

In the third photo in the series, Fatima decribed how brick kiln owners tried to stop her from raising her voice. "I was walking to court to attend a hearing against a kiln owner when suddenly I was surrounded by a group of men. Everyone ran away except for my brother and me. The men told me that I better drop the case. I told them I would not. Then they knocked me to the ground, pulled back my leg, and shot me in the knee. Afterwards they did the same to my brother. We thought we were dead. I was taken to the public hospital but was turned away. Politicians from the local ruling party had forbidden the doctors from treating me."

Stanton also told the story of a boy who was born into the brick kilns and directly turned to Fatima to help him escape the violence and cruelty of the owners. He told a horrifying tale of how he and his family suffered at the hands of the powerful kiln owners.

Read: HONY in Pakistan: He came, he saw, he left

"The owners called me to the office and beat me. They made the other workers join in. Then they took off all my clothes and tied me to a tree. I begged them not to do it. They left me there for hours. I tried to escape at night. I padlocked my family in the house and I ran into the fields. I came straight to Fatima. Before we could return for my family, the police had helped the owners break into my house. And my daughters were paraded naked in the streets," he related.




Stanton also photographed a young man who recounted how he had been trapped by kiln owners. "My sister fell ill and her medical bills cost 30,000 rupees. My father wasn't getting his salary on time, so we had no options. I took a loan from the brick kiln and agreed to work for them until it was paid off. Other members of my family did the same. We thought it would only take three months. But when I went to leave, they told me I owed them 90,000 rupees. I couldn't believe it. They told me I couldn't leave. It's like quicksand."


COMMENTS (14)
Comments are moderated and generally will be posted if they are on-topic and not abusive.
For more information, please see our Comments FAQ