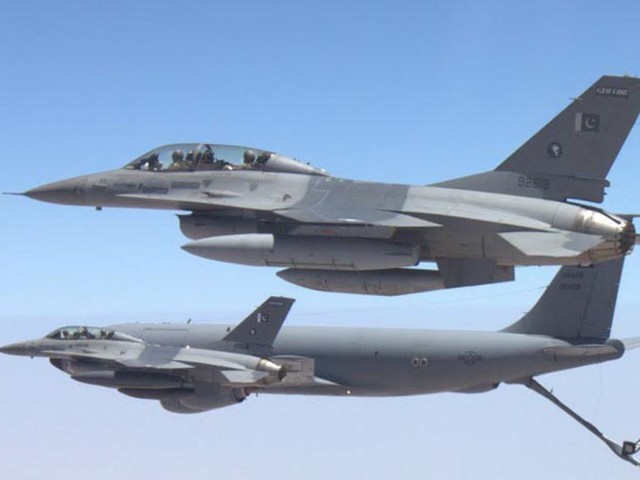 ---
Airstrikes left at least 65 suspected militants dead in North Waziristan aand Khyber Agency on Monday, Inter Services Public Relations said. The airstrikes come a day after a suicide bombing killed Punjab Home Minister Shuja Khanzada.

According to Radio Pakistan, ISPR said that among other militants, two suicide bombers were killed in the strikes.

While 55 terrorists were killed in Shawal and Gharmali areas on North Waziristan, another 15 were targeted in Rajgal area of Khyber Agency.

The deeply forested ravines of Shawal Valley and Datta Khel are popular smuggling routes between Pakistan and neighbouring Afghanistan, and are dotted with militant bases used as launch pads for attacks on Pakistani forces.

Meanwhile, AFP quoted the military saying 50 terrorists were killed in precise aerial strikes.

"At least 50 terrorists were killed in precise air strikes in Shawal and Gharlamai this afternoon. There are reports that the terrorists' infrastructure in the area, including their ammunition dump, is badly damaged," the military said in a statement.

Earlier, intelligence officials told Reuters that 24 militants were killed in the airstrikes.

Two intelligence officials, who declined to be identified as they were not authorised to speak on the record, said Monday's  airstrikes took place at 10 am in the Zoi Nari, Lataka, Mizer Madakhel and Shawal areas of North Waziristan.

Read: Punjab Home Minister Shuja Khanzada killed in Attock suicide blast

"Jet bombing destroyed six militant hideouts and killed 24 militants hiding in this area," said one of the officials, adding that the dead included some foreigners.

A second official confirmed the deaths but declined comment when asked if the strikes were in retaliation for Sunday's attack in Punjab, which killed nine people, including the provincial security chief.

Tehreek-e-Taliban Pakistan used to control all of mountainous North Waziristan, which includes the Shawal Valley and Datta Khel, and runs along the Afghan border.

Read: 40 militants killed in Shawal airstrikes: ISPR

But Pakistan Army recaptured most of the region in a major armed operation launched last June. NATO forces had long urged Pakistan for such an offensive, saying Taliban safe havens in the country were being used to attack NATO and Afghan forces in Afghanistan.

Since May, the military has stepped up operations in Shawal Valley, where the Taliban still operates freely. The area is a stronghold of Khan "Sajna" Said, the leader of a Taliban faction whose name the United States last year put on a sanctions list of "specially designated global terrorists".

Most phone lines to the area have been cut and military roadblocks limit civilian movement. It is not possible to independently verify security forces' claims of attacks and deaths.

Read: Leading the way for a terror-free Punjab

The TTP mainly fight against the government in Islamabad and are separate from, but allied with, the Afghan Taliban that ruled Afghanistan in the late 1990s before being expelled in a US-led military intervention.
COMMENTS (1)
Comments are moderated and generally will be posted if they are on-topic and not abusive.
For more information, please see our Comments FAQ