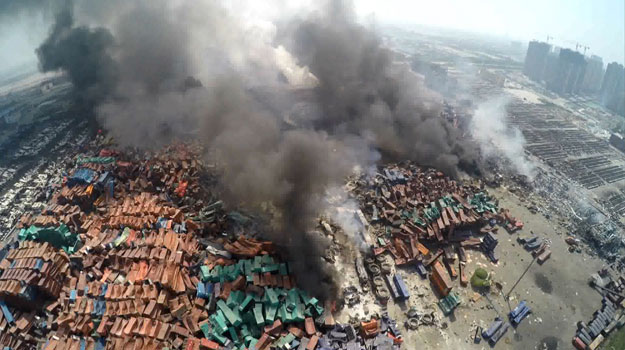 ---
TIANJIN: Rescuers trying to contain vast amounts of toxic cyanide at a Chinese industrial site combed Monday through thousands of shipping containers crushed in giant explosions, as state-run media lambasted local authorities' response to the disaster that killed at least 114 people.

The August 12 explosions at the hazardous goods storage facility in the port of Tianjin set off a giant fireball, devastated a vast area and raised fears over potentially highly dangerous contamination of the local environment.

Read: Hundreds of tonnes' of cyanide at China blasts site: military

Officials have insisted the city's air and water are safe, but locals and victims' relatives have voiced scepticism, while international environment group Greenpeace has also urged transparency.

Residents demonstrated outside a Tianjin hotel on Monday, demanding government compensation for their badly damaged apartments.

Around 700 tonnes of sodium cyanide was being stored at the warehouse where the blasts took place, He Shushan, a Tianjin vice mayor, told a news conference at the hotel Monday.

Sodium cyanide, which has a variety of industrial uses including gold mining, is a toxic white crystal or powder. It can release hydrogen cyanide gas, used in gas chamber executions in the US.

A huge, "very complicated and difficult" clean-up was underway, said He, made harder by the presence of more than 18,000 shipping containers, and amid fears rain could spread the substance.

Authorities had built sand and earth barriers around the blasts' 100,000-square-metre (120,000-square-yard) "core area" to prevent any pollutant leakage, said He.

Personnel including military, police, and chemical experts were combing their way through the mountains of mangled containers to remove toxic materials, and had drawn up a painstaking plan to test the core area "point by point".

Read: China blast residents evacuated over chemical fears as death toll reaches 104: Xinhua

The closest water test point to the blast site revealed cyanide levels 27.4 times standards on Sunday, officials said without specifying the quantity, but said they were within limits beyond the cordoned-off area.

Sodium cyanide had been found as far as around one kilometre from the blast site, they said, and the official Xinhua news agency reported cyanide traces had been detected in seawater near the port.

Military chemical and nuclear experts have been brought in, as have more than 140 staff from the company that produced the chemical.

Officials said on Monday the death toll from the disaster had risen to 114 with 70 people missing, but cautioned that some of those could be among 60 unidentified corpses.

Smoke was still rising from the site on Monday afternoon.

About 150 people who lived in the disaster zone — some bearing scars on their faces and holding signs and placards — held a protest demanding compensation for their apartments.

"We can't go back to our home," said Wen Jing, who said she fled her 33rd-floor apartment Wednesday night with her sister and parents, adding their residence was "totally" damaged.

"They haven't spoken a word to us yet," she said of the government's reaction. "No one has noticed us yet. No one said anything to us."

The government has sought to limit criticism of the handling of the disaster.

Read: Firefighter rescued from rubble after China chemical blast

But Premier Li Keqiang — visiting the city to meet victims and direct rescue efforts, a common move after major Chinese disasters — told Hong Kong's i-Cable TV: "We must investigate the accident, find the cause of the blasts and anyone who acted illegally will be severely punished."

Prosecutors said on Sunday they had launched an investigation into whether there had been any "abuse of power or dereliction of duty", according to Xinhua.

And state-run media lambasted officials for withholding information over the explosions, largely echoing public frustrations.

"During the first dozens of hours after the blasts, there was scant information offered by Tianjin authorities," the Global Times tabloid said in an editorial.

"Tianjin is not an exceptional case in terms of the inadequate disaster-response work," said the paper, which has close ties to the ruling Communist Party.

The comments may indicate that individuals could be held responsible for the disaster, and that central authorities are looking to portray it as an aberration rather than a systemic failure.

Authorities have been criticised for failing to uphold industrial regulations, notably requirements that warehouses stocking dangerous materials be at least one kilometre from surrounding public buildings and main roads.

The Beijing News, citing storage plans it had seen, said the warehouse was only authorised to hold 24 tonnes of the sodium cyanide — meaning it had nearly 30 times its permitted quantity on the site.

Chinese media reports on Monday said the son of a former police chief of Tianjin port was a major shareholder in the warehouse owner, Rui Hai International Logistics.

The reports on web portal Sohu and the Beijing News illustrate the often-criticised links between business and official elites in China, which have raised concerns of corruption and lax regulation.

Environmental campaign group Greenpeace — which has not detected high cyanide levels in surface water tests in the city — said the blasts "should be a wake-up call for the government".

"Loopholes must be closed, and regulations must be implemented strictly and effectively. If not, we will continue to see these kinds of dangerous accidents."
COMMENTS (2)
Comments are moderated and generally will be posted if they are on-topic and not abusive.
For more information, please see our Comments FAQ