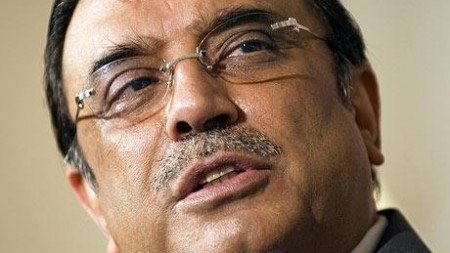 ---
PESHAWAR: President Asif Ali Zardari on Tuesday urged the people of Khyber Pakhtunkhwa not to let outsiders enter their ranks and to unite to protect Pakistan against all challenges.

Addressing a tribal jirga at the Governor House, the President said every citizen has to play his role as complacency has no place in such challenging times.

He said the people of the province need to check that their neighbours were not illegal foreigners or were involved in unlawful activities so that they might not create problems for the locals.

The president who was on a day-long visit to the provincial metropolis said the people here have a better understanding of their surroundings, social customs and must work together to create a safe environment. He assured full support of the government in this regard.

He said the decision of the new name was the result of a consensus that reflected the political maturity of the people and the political party.

Zardari also assured that all those who lost their lives in the province would be given equal compensation.

He said the budget of the province had increased by 30 percent. The president said the total budget would touch Rs21 billion after adding foreign aid and additional resources of Rs8 billion from the federal government.

The president pointed at the distribution of the new BISP cards and said all the deserving people would get their cards through a transparent and clean system.
COMMENTS
Comments are moderated and generally will be posted if they are on-topic and not abusive.
For more information, please see our Comments FAQ