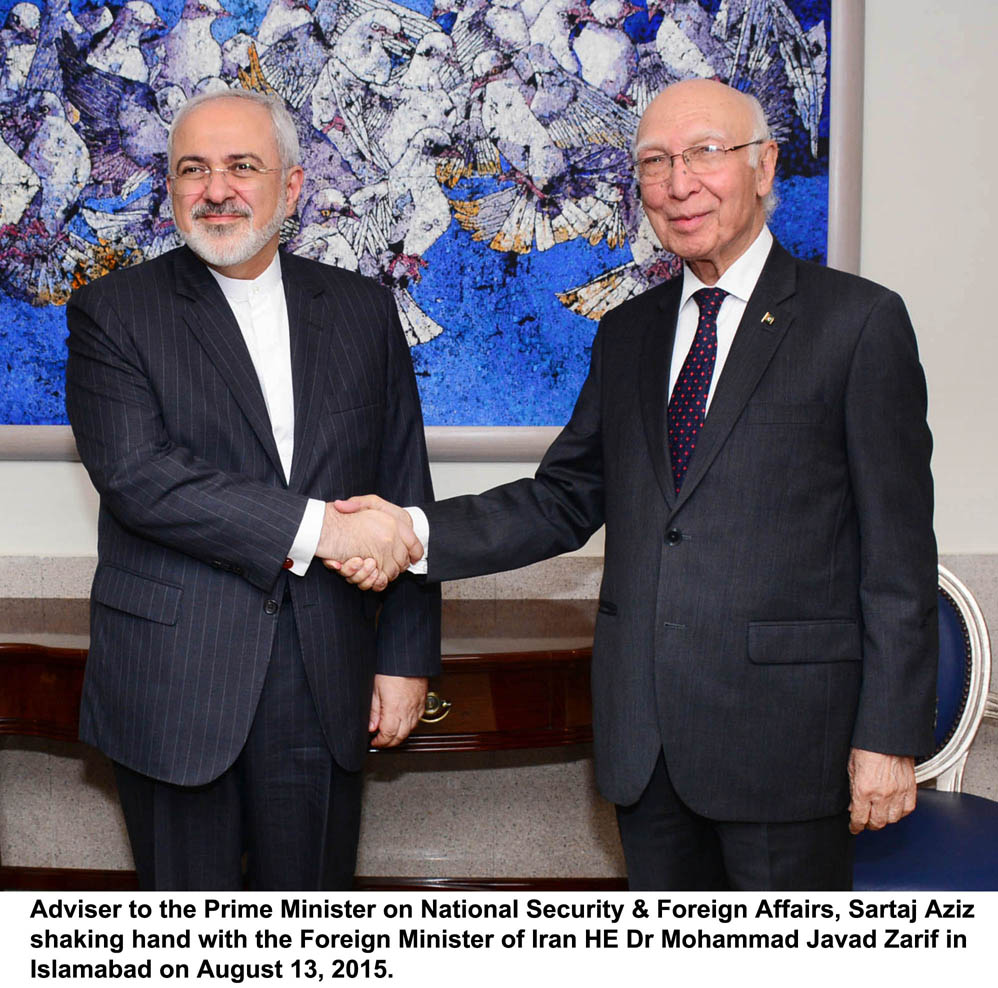 ---
ISLAMABAD: Iran dismissed on Thursday suggestions that it was against the China-Pakistan Economic Corridor (CPEC) project, including the Gwadar Port, saying it "supports growth and development anywhere in Pakistan."

Iran's foreign minister Javad Zarif addressing a joint press conference with Sartaj Aziz, "We believe economic development both in Pakistan's Balochistan province and Iran's Sistan are fundamental to fight poverty and extremism."

Responding to a question regarding Iran's support for CPEC and the Gwadar port, Zarif stated, "We certainly support growth and development anywhere in Pakistan, particularly in Balochistan."

Read: Iranian Foreign Minister due in Pakistan this week: official

Zarif's statement comes in view of reports claiming that Tehran considers the project a potential threat to its Chahbar port. Further, following the nuclear deal, India has also shown interest in building the Chahbar port, which is not far from Gwadar.




PHOTO: PID

Chinese announcement of investing a whopping $46 billion on the CPEC has led to speculations that other regional countries particularly India and Iran may make attempts to undermine the project. However, the Iranian diplomat dismissed the suggestion reiterating that his country is in full support of such development projects.

Further, Zarif called upon Pakistan to work in unison to eliminate sectarianism, terrorism and extremism from the region and the world.

Read: After nuclear deal, Pakistan and Iran seek to increase trade

Addressing a joint press conference with Prime Minister's Adviser on National Security and Foreign Affairs Sartaj Aziz on Thursday in Islamabad, Zarif said, "It is a great pleasure and honour to be back in Pakistan within a time span of four to five months."

"Today I was received by the prime minister of Pakistan and we discussed a number of bilateral and regional issues," he said adding violence, insecurity and terrorism in the region, the Middle East and in general, needs to be dealt with.

"PM Nawaz and I discussed to increase cooperation between the two countries in sectors ranging from oil to gas, energy, transportation and others," he added.

The Iranian foreign minister maintained that a delegation between the two countries will discuss how to bring into effect the agreements made between the leaders of Pakistan and Iran.

Zarif said the two countries actively need to work towards establishing peace in the hotspots of the region and play a responsible role.

Read: Iran nuclear deal a potential game changer: Zardari

The visit comes in the aftermath of the landmark nuclear agreement that Tehran signed with the world powers last month.

Pakistan is hopeful that the nuclear deal will now pave the way for the completion of the Iran-Pakistan gas pipeline project. The two countries are also looking towards each other to counter the threat being posed by the Islamic State group in this part of the world.