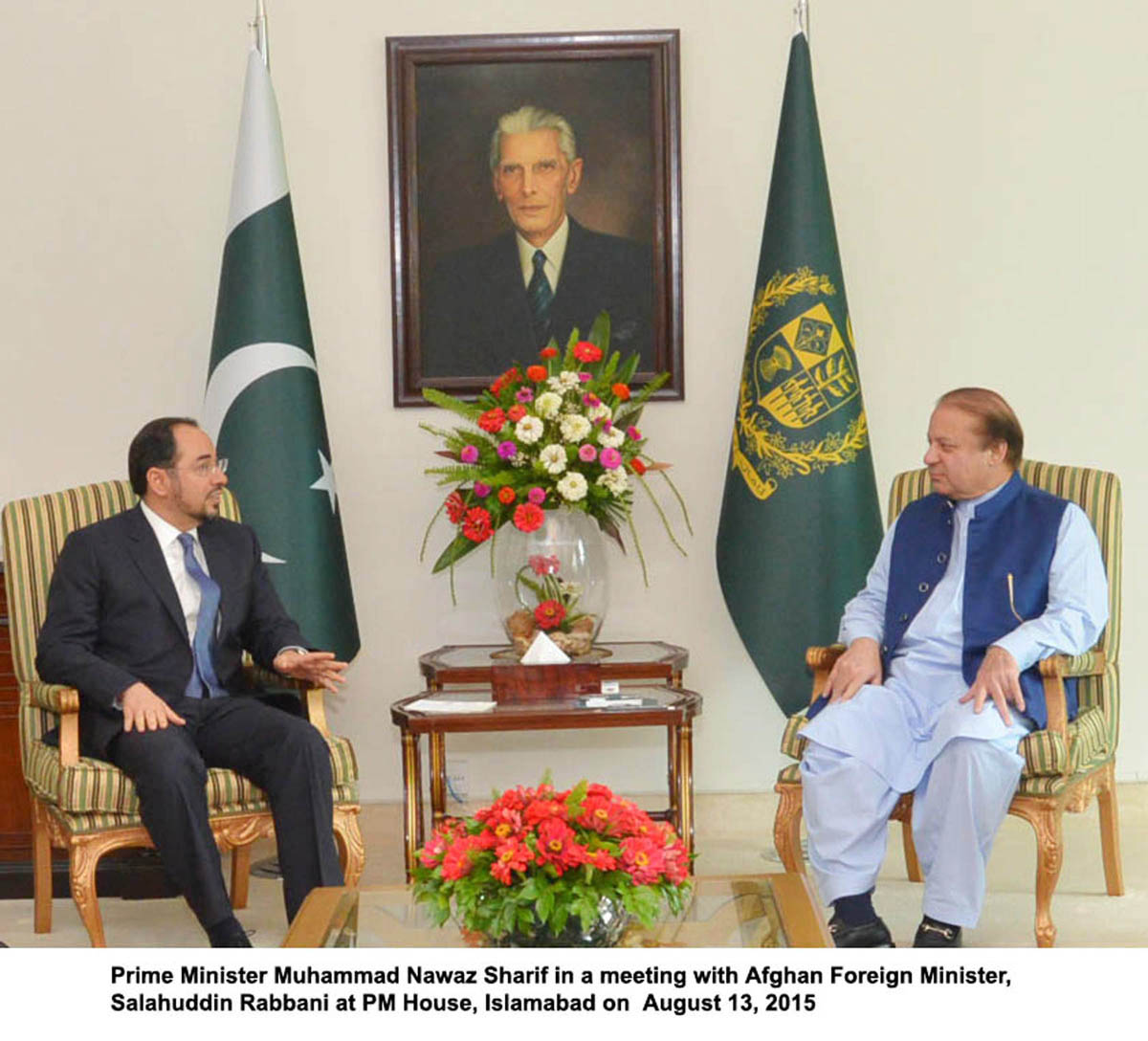 ---
ISLAMABAD: Despite Afghan leaders  and security agencies pointing fingers at Pakistan for the recent spate of attacks in Kabul, leaders from both countries agreed upon joint efforts to defeat terrorism.

During a meeting between the visiting Afghan peace delegation and adviser to the Prime Minister on National Security and Foreign Affairs Sartaj Aziz in Islamabad on Thursday discussion were held on the revival of suspended talks with the Taliban, which had stalled following last month's announcement that the group's founder Mullah Omar had died.

The delegation was led by Afghan Foreign Minister Salahuddin Rabbani, who was accompanied by Acting Afghan Defence Minister Masoom Stanekzai,  Director General of Afghan National Directorate of Security Rahmatullah Nabil among others.




According to a statement of their meeting released by the Ministry of Foreign Affairs, Aziz reiterated Pakistan's condemnation of recent terror attacks in Kabul.

He said that Pakistan was committed to building a constructive and forward-looking relationship with Afghanistan, adding that they were ready to work with Afghanistan in overcoming all challenges.

Read: Ghani's allegations: Pakistan reiterates commitment to peace in Afghanistan

He emphasised the two countries should have trust and faith in each other and discourage spoilers and detractors who have been trying to create mistrust between Pakistan and Afghanistan.

Rabbani also reaffirmed Afghanistan's desire to work closely with Pakistan to enhance mutual cooperation in all areas of common interest. He concurred with the imperative of common endeavours for countering terrorism and for enduring peace and stability in Afghanistan and the region.

The two sides agreed to maintain close contact to promote bilateral cooperation, address all issues of common concern, and evolve a strategic consensus to respond to the security challenges of the region.

Earlier, Rabbani also held a meeting with Prime Minister Nawaz Sharif.

Islamabad to share evidence of Pakistani militants' presence on Afghan soil with Kabul

Earlier, sources said Pakistani officials would share evidence with Afghan leaders about the presence and activities of Pakistani militants in Afghanistan who routinely claim responsibility for attacks in Pakistan.

Following a series of deadly attacks in Afghanistan, President Ashraf Ghani and Chief Executive Abdullah Abdullah have lashed out at Pakistan for not cooperating in anti-terrorism activities.

Read: Upping the ante: Kabul to seek action against Afghan Taliban

Hundreds of Pakistani militants have fled to Afghanistan as a result of military operations in tribal regions, including North Waziristan and Khyber agencies.

Pakistan is upset at the failure of Afghan authorities to stop fleeing militants from entering Afghanistan, especially after Operation Zarb-e-Azb.

The Afghan intelligence, NDS, last month confirmed the presence of top Islamic State leaders Hafiz Saeed Khan and Shahidullah Shahid, both Pakistani nationals, who were killed in eastern Nangarhar province in US drone strikes. Dozens of Pakistani militants were also killed along with their leaders in the US drone attacks, according to NDS statements.

Saeed and Shahidullah, who was previously associated with the banned Tehreek-e-Taliban Pakistan, were among the top Pakistani militant leaders who had been operating from Afghanistan.

Read: Afghanistan to demand arrest, expulsion of Taliban leaders from Pakistan: sources

US military took over Lateefullah Mehsood, aide to Hakimullah Mehsood, in October 2013 from Afghan intelligence agents who were being taken for a meeting in Kabul. Aimal Faizi, then spokesperson for former Afghan president Hamid Karzai, had described Lateefullah, as a "great asset" for the Afghan intelligence and had condemned the US action. The US handed over Lateefullah to Pakistan last year.

Also in February 2013, Afghan officials arrested Maulvi Faqir Muhammad, the TTP deputy chief in Nangarhar.

No break in Kabul's accusations

Meanwhile, Afghan President Ashraf Ghani renewed his allegations against Pakistan during a meeting with Kabul-based diplomats.

Referring to the recent attacks in Kabul, Ghani told a group of Kabul-based diplomats that the attack in Kabul's Shah Shahid area was "designed and planned by terrorist groups in Pakistan."

Read: Volte-face: Kabul hits out at Islamabad over uptick in violence

"The president added that after Mullah Omar's death was confirmed, terrorist groups held public gatherings in Pakistan and declared war against Afghanistan," the Afghan Presidential Palace said.

Ghani emphasised that the Pakistani government should realise the sensitivity of the issue and take strong action against terrorist groups inside its territory.

Further, Ghani said that the government of Pakistan should have the same definition of terrorism in regard to Afghanistan as it has for its own, a statement posted on the palace website said. The president concluded that Afghan government has made its position clear to the Pakistani officials and now Pakistan's decisions in the coming weeks will determine the status of the relations between the two countries.