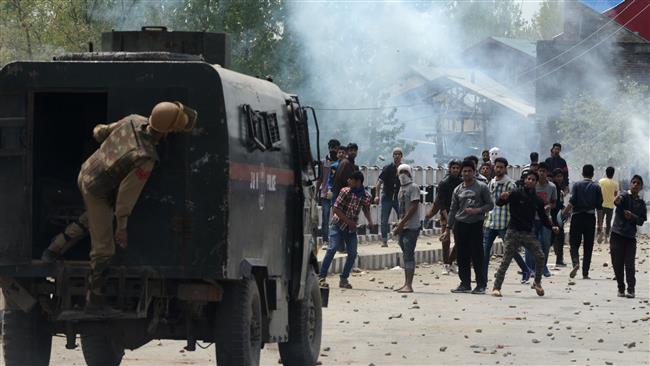 ---
SRINAGAR: An Indian soldier and two suspected militants were killed in Kashmir in two separate gun battles along the de facto border that divides the restive territory between India and Pakistan, police said Sunday.

The two died when a group of suspected militants crossed the border into India and were intercepted by soldiers, triggering a gun battle in Keran, 150 kilometres (90 miles) northwest of Kashmir's main city of Srinagar.

Read: Pakistan rejects India's claim of Kashmir militant's Pakistani origin

"According to sources in the army two militants were killed early Sunday morning in the gun battle," Javaid Gillani, the inspector general of police for the region, told AFP.

An Indian army soldier was killed Saturday night in a similar but separate gun battle in the adjacent sector of Tangdhar along the heavily-militarised border, Gillani added.

The latest gun battles follow a recent uptick in cross border exchanges of heavy fire between Indian and Pakistani troops.

Among them was an attack on an Indian Border Security Force convoy last week in which two border guards and a militant were killed while another militant was captured.

India said the captured militant confessed to be a Pakistani national but Islamabad has rejected the claim.

Kashmir has been divided between the South Asian rivals since they won independence from Britain in 1947. Both claim the disputed territory in its entirety.

Since 1989, several rebel groups have been fighting hundreds of thousands of Indian forces deployed in the region, for independence or a merger of the Himalayan territory with Pakistan. The fighting has left tens of thousands, mostly civilians, dead.

Read: Government asks India for fact-sheet on terror suspect

India often accuses Pakistan of pushing armed militants across the border, a charge Islamabad denies, saying it only provides diplomatic and moral support to the Kashmiri people's struggle for the right to self-determination.
COMMENTS (2)
Comments are moderated and generally will be posted if they are on-topic and not abusive.
For more information, please see our Comments FAQ