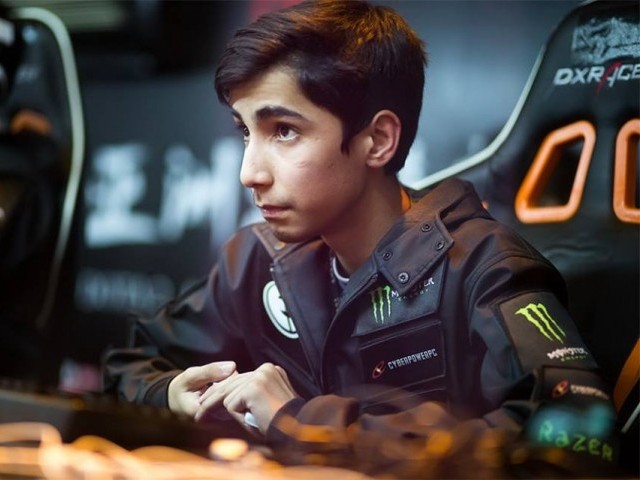 ---
Sumail Hassan started playing Defense of the Ancient 2 (Dota 2) as a seven-year-old. Now at 16, he could call him a millionaire as soon as mid-August.

Having moved to the United States only a year ago from Karachi, the child prodigy has already made waves in the in-house gaming league in North America. It is there where he was picked up by one of the biggest e-sports team, the Evil Geniuses, and he made history for Pakistan when he helped his team claim the Dota 2 Asian championship in China in February this year.

The prize for the winning team was $1.2 million and his team will compete next week for more than $6 million.

His team, Evil Geniuses, pays for Sumail to fly around the world for training and tournaments. Initially, the manager of Evil Geniuses, the highest-earning Dota 2 team in North America, Charlie Yang, said the 16-year-old would earn a small stipend, less than $4,000 a month, but the real money would come from tournaments. After a 10% cut for the owners, prize money is split among the team's five players. The previous year's prize pool at the International, the game's biggest tournament, held annually in August, was more than $10 million.

Read: 15-year-old Pakistani wins $1.2m Dota2 Asian Championship

Just before his 16th birthday, and a month after playing as a professional gamer, Sumail has racked up $200,000.

EG's captain said Sumail – who is conveniently known by his in-game alias of 'Suma1L' – was brought in after they spotted the "x-factor" in the young Pakistani. EG was so impressed that they took the risk of including the 15-year-old, who had yet to play in a professional competition, on their roster for the world's second biggest Dota2 tournament, the Dota2 Asian Championships (DAC).  The risk paid huge dividends for EG as Sumail on Monday helped the third-seeded team past Chinese team Vici Gaming at the DAC grand finale.

Sumail's popularity has grown over the months. With a fan following of 30,000 on Twitter, the 16-year-old hosted his own live-streamed games, where he appeared via webcam but never spoke.

Read: 19-year-old Pakistani wins World Summit Youth Award

The chance for that a player to be plucked from obscurity and win huge prize money is part of what makes e-sports so popular.

Sumail now eyes the International Dota 2 world championships in August at Seattle's KeyArena, where he and his team will be competing for a grand prize of more than $6 million.

This article originally appeared on Bloomberg.
COMMENTS (10)
Comments are moderated and generally will be posted if they are on-topic and not abusive.
For more information, please see our Comments FAQ