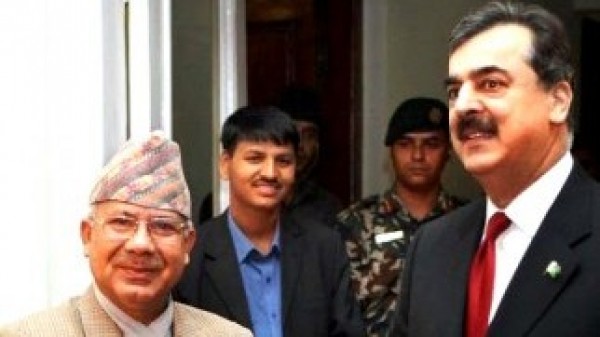 ---
KATHMANDU: Prime Minister Yousaf Raza Gilani called on Nepalese President Ram Barn Yadevat on Monday, while on his way to Bhutan to attend the 16th South Asian Association for Regional Cooperation (Saarc) Summit.

There is no meeting scheduled between Prime Minister Gilani and his Indian counterpart Manmohan Singh on the sidelines of the summit, official said But Indian officials refused to rule out the possibility of a meeting between the two leaders. The prime minister said that both sides agreed on a roadmap, aimed at achieving enhanced cooperation in various fields. "We should now focus on upgrading our cooperation in all areas of common interest," he told the Nepalese president.

"Despite Pakistan's economic constraints, the country will continue to support Nepal's socioeconomic development through technical cooperation," he said, adding that through Saarc, both countries could achieve regional cooperation. Earlier before leaving, Premier Gilani said that Saarc leaders would take up a mutually agreed agenda that was developed through secretary level talks. Food security, an important regional issue, will be taken up where it was left of at last year's summit.

At the same time, the prime minister is expected to hold bilateral meetings with his counterparts–heads of states from Afghanistan, Bangladesh, Bhutan, India, the Maldives, Nepal, Pakistan and Sri Lanka. Gilani's media office, in a handout, said that an important meeting between Prime Minister Gilani and his Indian counterpart Dr Manmohan Singh is expected on the sidelines of the summit. However, no meeting is scheduled between the two leaders. Foreign Office spokesperson Abdul Basit to Express 24/7 that even though there was no planned dialogue, a possible meeting between the two prime ministers would be important.

There are hopes within officials of the Foreign Ministry to use the summit as an opportunity to move the composite dialogues forward, but Indian officials have not formally announced a meeting. Earlier, Indian External Affairs Minister SM Krishna said a meeting between the two leaders at the margins of summit "could not be ruled out". "All bilateral issues between India and Pakistan will be discussed as and when the prime ministers meet," said Krishna as reported by an Indian wire service, the first indication that such an engagement could be in the works. Pakistan has played a constructive role to make Saarc a viable organisation for regional cooperation, based on the principles of sovereign equality.

Foreign Office Spokesman, Abdul Basit said that "we believe that Saarc can serve as a platform to build economic synergies and transform the quality of life of the peoples of South Asia." During the summit, the prime minister will highlight important issues like matters relating to poverty alleviation, energy cooperation, water conservation, interaction in agriculture and rural development, cooperation on promotion of welfare of women and children and development of better health facilities for the peoples of South Asia.
COMMENTS
Comments are moderated and generally will be posted if they are on-topic and not abusive.
For more information, please see our Comments FAQ