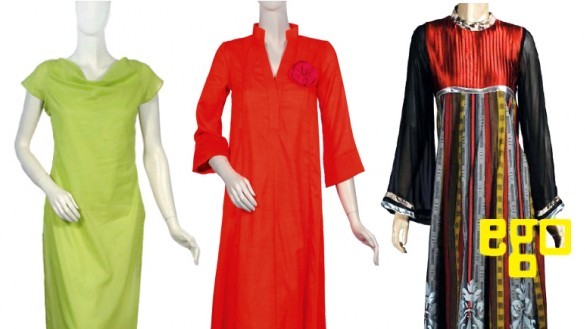 ---
KARACHI: Tailors were once a reliable option for getting clothes made on a short deadline. Every woman has a story of how she has threatened, blackmailed and cried in front of her tailor to get clothes made in 24 hours. But the quiet growth of retail stores in Karachi has helped women out tremendously. The spring/summer 2010 collections have hit retail stores but the prices vary between being affordable and exorbitant, in some cases. We take a look at the trends and prices being showcased at Ego, Sheep, Daaman and Generation.

Sheep

At Sheep, the new entrant to Zamzama's bustling lanes, the palette is predominantly based of pastels. The collection features appliqué flowers on the border or the neckline, as well as oversized corsages. They also feature flowing tunics with bright straps, to wear as dresses or with pants.

Ego

Ego, which has seen tremendous growth in the past two years, has focused on dark shades this season, with tunics and pants in cotton fabric. A sales assistant at Ego told The Express Tribune, "We are mostly doing stuff on cotton and mixed fabric. With dark colours, cotton is the best fabric that does justice to our clothing line." However the prices have increased this season, a matter that has drawn outrage from Ego's customers on their Facebook page.

Daaman

Daaman features a mix of floral and plain prints, focusing more on separates to be worn with skinny jeans or trousers.

Generation

The popular retail store struck a different note, and features the typical summer favourite floral prints as well as graphic prints and embroiders to abstract to embroidered work done with deep gold and silver on cotton fabric or georgette was not reasonably priced.

Prices

At Generations, the average was between Rs 3,500 to Rs 4,700, whereas at Sheep, Ego and Damaan the tunics were all less than Rs2,500 and the pants priced less than Rs1,500.

Visit myoffstreet to catch an online glimpse at what's for offer.
COMMENTS (3)
Comments are moderated and generally will be posted if they are on-topic and not abusive.
For more information, please see our Comments FAQ