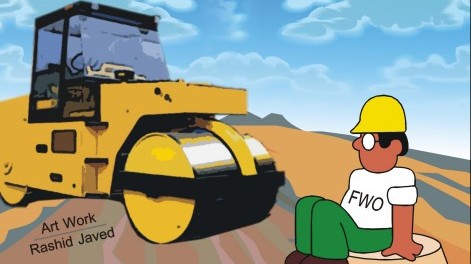 ---
LAHORE: (FWO) has warned of halting development works in the city if the government does not release Rs1 billion outstanding funds.

FWO officials told The Express Tribune that the funds were due in December 2009 when the organisation completed work on 20 main and 183 link roads at the cost of Rs2 billion.

The government cleared Rs1 billion while the rest is still is still 'under process', they claimed. Lahore road rehabilitation project (LRRP) phase II director Col Javed Iqbal informed that the finance department releases funds after NESPAK's –a semi-government engineering body –approval.

"We have submitted more than 50 interim payment certificates (IPC) or bills for the payment of Rs 1 billion outstanding. Bills worth RS550 million have already been approved by NESPAK, while another Rs250 million are in process," Iqbal said.

Chairman CM taskforce on LRRP phase-II Khawaja Hassan has stated that the funds would be released very soon. He claimed that that there were some minor glitches and the chief minister was personally working towards dealing with them. Punjab government had consulted the FWO –army's engineering wing – in 2008 to undertake construction and repair work on 23 main and 183 link roads at a cost of Rs2.8 billion.

The FWO has completed work on 20 main and 178 link roads. Its payment worth Rs2 billion was due in Dec 2009. The organisation has addressed a warning letter to Khawaja Hasan claiming that work on the remaining roads would be stopped if the government does release the funds. FWO officials told that the deadline for the payment, Rs0.8 million, of remaining three main and five link roads has also been missed.

The deadline –earlier set at April 15, 2010 –has now been extended to June 2010, according to the officials. The three main roads include Madar-e-Millat Road in Quaid-e-Azam Town (60 per cent complete), Main Sabzazar Road from Multan Road to Babu Sabu (65 percent complete) and Valencia Road from UBD canal to Shadiwal Chowk in Johar Town (50 percent complete). Out of the five link roads, one each is in Sabzazar(80 per cent complete), Johar Town (70 per cent) and Shadbagh(95 per cent) and two are in Gujjarpura ( 90 per cent complete).

The first phase of the LRRP included the construction of Shalamar Interchange at a cost of Rs2.1 billion. The construction work was completed on January 4, 2010.
COMMENTS
Comments are moderated and generally will be posted if they are on-topic and not abusive.
For more information, please see our Comments FAQ