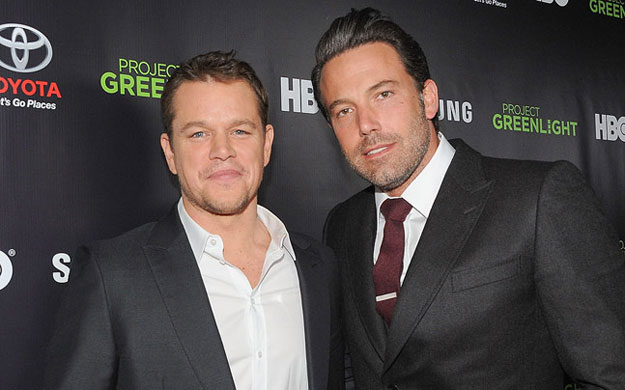 ---
Hollywood actor-director Ben Affleck is to help produce a feature film about the corruption scandal that has rocked world soccer and its governing body FIFA, said the author of an upcoming book.

Affleck and his childhood friend, actor Matt Damon, will be among the producers of the as-yet-untitled movie for Hollywood studio Warner Bros, the author, US reporter Ken Bensinger, told Reuters.

It is expected to focus on the role of American Chuck Blazer, a former FIFA official. Bensinger said that actor John Goodman had been mentioned as a possible option to portray the 70-year-old Blazer, who has a curly white beard and has in the past tipped the scales at more than 400 pounds.




Read: Exporting manpower: 250 workers to leave for Qatar soon

A spokeswoman for Goodman said she was not aware of any discussions about the part.

The deal was first reported on Friday by trade paper The Hollywood Reporter.

Blazer, the former general secretary of CONCACAF, soccer's governing body in North and Central America and the Caribbean, has secretly provided US prosecutors with information about alleged bribery and kickbacks in connection with bidding to host the 1998 and 2010 soccer World Cups.

Blazer pleaded guilty in 2013 to 10 criminal counts, according to a plea deal unsealed by US prosecutors earlier this month,

Seven current or former soccer officials were arrested on US corruption charges in a raid on a Swiss hotel in late May as part of a wide-ranging investigation. The following week, FIFA President Sepp Blatter - just days after being reelected - said he would be stepping down.




The movie is to be based on Bensinger's proposed book Houses of Deceit, which went to a bidding war between Hollywood studios after the FIFA scandal broke in May.

Bensinger, an investigative reporter for US news website Buzzfeed.com, said the book was still in its early stages and was unlikely to be published before 2017.

"I'm excited about the challenge of putting together this book and the prospects for a movie. I think this story has amazing potential to capture the interest of a wide range of people and not just soccer fans, because it touches on fundamental human themes of power, greed, corruption and justice," Bensinger added in a statement.

Read: FIFA suspends 2026 World Cup bidding

That will make it very different from a FIFA-funded movie, United Passions, which explores the 111-year history of the organization and attempts to show it as a force for good. The 2014 French movie, which was first screened in the US this month, has been widely panned by critics and has been a massive box office flop.




Bensinger said that director Gavin O'Connor may be involved in his movie.

Warner Bros, a unit of Time Warner Inc, declined to comment on Friday, saying the studio did not comment about projects that may be in development.

Blazer is now in hospital with cancer and unable to speak. But in his pomp he chronicled his globe-trotting activities to spread the good word for FIFA on his blog. He is pictured with Nelson Mandela and soccer legends George Best and Pele. He can also be seen with an exotic dancer, his parrot, and dressed up like a pirate.

The New York Daily News reported last year that he kept an apartment in the city mainly for his cats and needed a fleet of mobility scooters to get about.

FIFA seems to be drawing more and more negative publicity of late. The decision to hold the 2022 FIFA World Cup in Qatar has drawn a number of criticisms as allegations from bribery and financial mismanagement to slavery and deadly work conditions pile up, reported BoredPanda. 

900 workers have died during construction for the Qatar world cup, and some estimate that this number will rise to 4,000 before they're finished. People went to lengths showing their disapproval; some made anti-logos to urge sponsors to withdraw from Qatar 2022 FIFA World Cup.


PHOTOS: BOREDPANDA