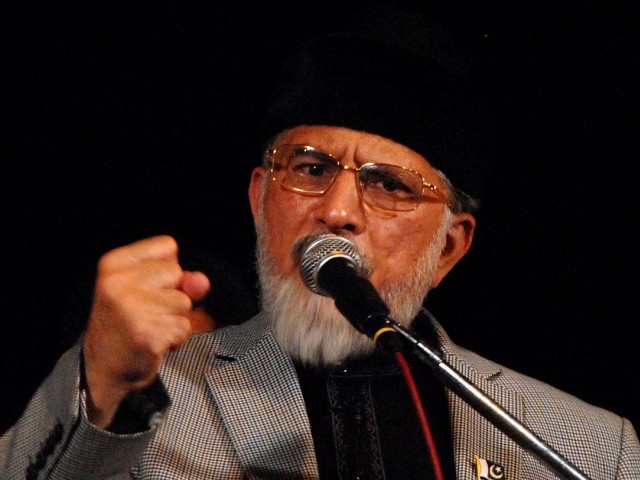 ---
LAHORE: Pakistan Awami Tehreek (PAT) chief Dr Tahirul Qadri asked on Monday the security institutions of the country to begin a crackdown and nab those responsible for the bloodshed in Model Town in the same way as Karachi is being purged of terrorism.

"I call upon the responsible officers of Rangers, those commanding them and security institutions of the country to begin an operation against those who mercilessly killed 14 people during Model Town clashes in Lahore," he said, addressing his workers outside his residence in Model Town.

Qadri alleged the plot of the massacre was designed at PM House and accused both PM Nawaz and Punjab Chief Minister Shahbaz Sharif for 'having a hand in supervising the killing'.

Further, Qadri said he does not have faith in any joint investigation team as such bodies constituted by the incumbent government cannot deliver justice.

"Only an independent Joint Investigation Team can determine and name those responsible for the mayhem."

While thanking his supporters for welcoming him on his arrival home, he vowed that the party will continue its campaign until those responsible for the chaos and bloodshed are brought to justice.

Earlier, the PAT chief arrived in Lahore after a time span of seven months abroad after he had launched a gruelling movement against the government here, Express News reported.

Dr. Qadri arrived at Lahore's Allama Iqbal International airport at 8:00am where he was received and felicitated by a large number of his party workers and later escorted under high security to his residence in Model Town.


An Express News screengrab

The PAT chief left London on Sunday at 2pm and stayed in Dubai for a few hours before leaving for Pakistan.

Read: Not impressed: Tahirul Qadri slams president's speech in parliament

PAT Supreme Council chairman Hassan Mohiyuddinn Qadri on Sunday announced that Qadri will be arriving in Pakistan on June 29.


An Express News screengrab

Dr Qadri had left Pakistan for United States last year on December 3, citing ill health as the reason for his departure. "I will continue to fulfill my commitment until my last breath," the PAT chief had said, dismissing widespread rumours that he might not return.

Read: Tahirul Qadri slams 'political dictatorship'


An Express News screengrab

Qadri, who led his followers to lay siege to the parliament last August, said that he wanted his 900-page curriculum, containing theological and ideological arguments to undermine extremists, to be taught not just at mosques and Islamic institutions, but also at schools across Britain.
COMMENTS (18)
Comments are moderated and generally will be posted if they are on-topic and not abusive.
For more information, please see our Comments FAQ