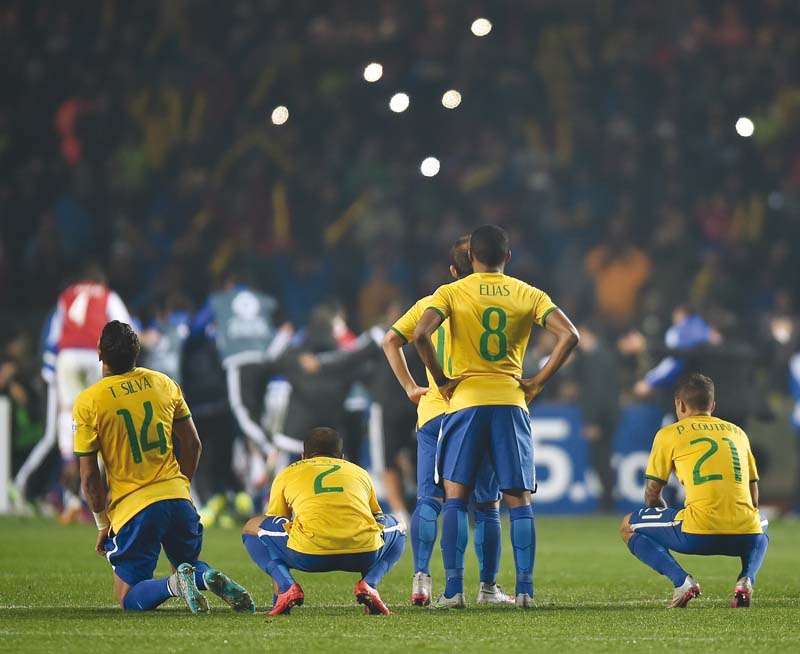 ---
CONCEPCIóN: Brazil coach Dunga blamed a mystery virus for his team's shock Copa America exit to Paraguay on Saturday as the most successful footballing nation on the planet struggled to digest another tournament setback.

Dunga said 15 members of his squad had been affected by the virus. "I'm not making excuses, but around 15 players had viruses which limited our training," said Dunga. "Some had headaches, back pain, body aches. Some players felt it more than others and had to reduce training, some players vomited. Today was a game where we needed speed and we didn't have it."

However, Dunga's explanation caused confusion amongst members of his squad, with Filipe Luis telling reporters he was unaware of any mass illness. "I didn't know anything about that," said the Chelsea player. "Some of the other guys might have had a problem, but I didn't."

Goalkeeper Jefferson however backed his manager. "Everyone woke up with a fever, headache and body aches," he said.

For the second Copa America in succession, Brazil exited at the quarter-final stage to the Paraguayans on penalties.

While Dunga talked about a mystery virus, others will be left asking whether Brazilian football in general is on its sick bed. Dunga had looked to have been nursing the Selecao back to health as the team recovered from the humiliation of last year's 7-1 World Cup semi-final drubbing by Germany, overseeing 10 consecutive wins in friendlies.

But those results merely camouflaged the same problems that existed at the World Cup; a dearth of creative flair and an over-reliance on Neymar.

Dunga acknowledged the problems facing Brazil. "We all have to think about Brazilian football," he said. "We can't ignore the fact that other teams have got a lot better."

Pacific 'Clasico' as Chile face Peru in semi-final

The latest instalment of one of South American football's fiercest rivalries plays out on Monday when hosts Chile face Peru with a place in the final at stake.

Matches between the two neighbours are known as the "Clasico del Pacifico" and are played against a backdrop of historical enmity that dates back more than a century to the 1879-1883 War of the Pacific.

On the football field, the rivalry began in 1935, but the animosity pre-dates that first encounter by several decades.

Most famously, differences of opinion remain to this day over which country is responsible for the invention of the bicycle kick. Chileans say they invented it in a 1914 match, christening the overhead volley as "La Chilena". Peruvians see it differently, arguing that in fact it was first tried in the port city of Callao in the late 1800s, being given the name, "La Chalaca".

More recently, several matches between the two sides have entered folklore. In 1977, Peru ended Chile's hopes of qualifying for the 1978 World Cup; Chile had inflicted the same misery on Peru in qualifiers for the 1974 tournament.

Chile have the stronger pedigree in recent tournaments, qualifying for the last two World Cups, reaching the last 16 in 2014. Peru have not qualified for the World Cup since 1982.

The hosts therefore will start as clear favourites as they aim to take another step towards ending their 99-year wait for Copa America glory.

However they face a Peru side which is brimming with confidence after recovering from a 2-1 defeat in their opening game against Brazil to reach the last four, while a cloud hangs over Gonzalo Jara, who may receive a five-match ban for provoking Edinson Cavani in the quarter-final.


Los Incas swept aside Bolivia in the quarter-finals 3-1, with Brazil-based striker Paolo Guerrero scoring a hat-trick. 


Published in The Express Tribune, June 29th,  2015.

Like Sports on Facebook, follow @ETribuneSports on Twitter to stay informed and join in the conversation.