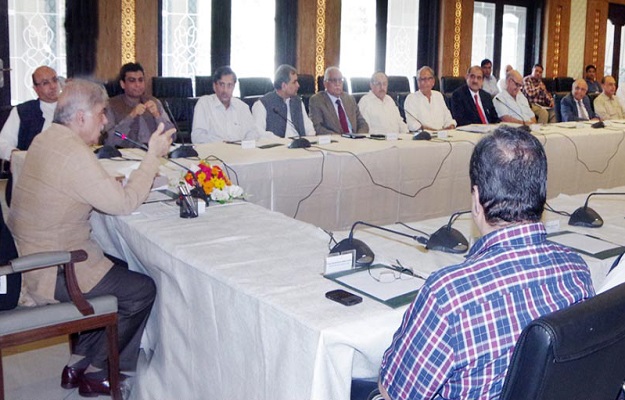 ---
LAHORE:



A judicial inquiry will be held to determine the facts about the printing of a map showing Seraikistan and Hazara in an eighth class textbook, Chief Minister Shahbaz Sharif said on Sunday.




He was chairing a meeting to discuss the issue.

"The printing of a map featuring Seraikistan and Hazara 'provinces' in the eighth class geography book of the Punjab Textbook Board is regrettable. It is a serious crime. Therefore, a judicial inquiry will be held. A letter will be written to the Lahore High Court chief justice for this purpose," he said.

The chief minister said that the incident was deplorable. "Had there been an effective system of checks in the department concerned, the map would not have been printed. This should have been rectified in time," he said.

"After the matter came to light, immediate action should have been taken," he said.

He said that Chief Minister's Inspection Team would also submit its report regarding the incident. "Those involved in this crime will not escape punishment. It is lamentable that there was no mechanism to stop this at an early stage. It is essential to evolve an effective system of detecting such things in future," he said.




The chief minister directed the officials concerned to recall all the books containing the wrong map. "Commissioners and DCOs should take action in this regard. Books with the correct maps should be supplied immediately," he said.

Education minister Rana Mashhood Ahmad, the chief secretary, the law secretary, the schools education secretary, the Punjab Curriculum and Textbook Board chairman and the Punjab Curriculum and Textbook Board managing director attended the meeting.

Energy crisis

"The government is taking all steps it can to resolve the energy crisis," the chief minister said.

He was presiding over a meeting to review progress on transport, infrastructure and energy projects in the province.

Sharif said the government was focusing on improvement of transport and infrastructure. "The metro bus projects have introduced a new culture in the transport sector. The metro bus project in Rawalpindi has also proved very successful. Around 150,000 citizens are benefiting from the service daily," he said.

He said that the government had also started work on a metro bus project in Multan.

The chief minister said that the orange line metro train project would be completed in Lahore. "The metro train project will prove a milestone in the history of the country," he said.

Provincial Ministers Mujtaba Shujaur Rehman, Rana Mashhood Ahmad, Tanvir Aslam Malik, MNAs Hamza Shahbaz Sharif, Perviaz Malik, Rohail Asghar, Mehr Ishtiaq Ahmad and Lahore Transport Company Chairman Khawaja Ahmad Hasaan were present in the meeting.

Published in The Express Tribune, June 29th, 2015. 
COMMENTS (9)
Comments are moderated and generally will be posted if they are on-topic and not abusive.
For more information, please see our Comments FAQ