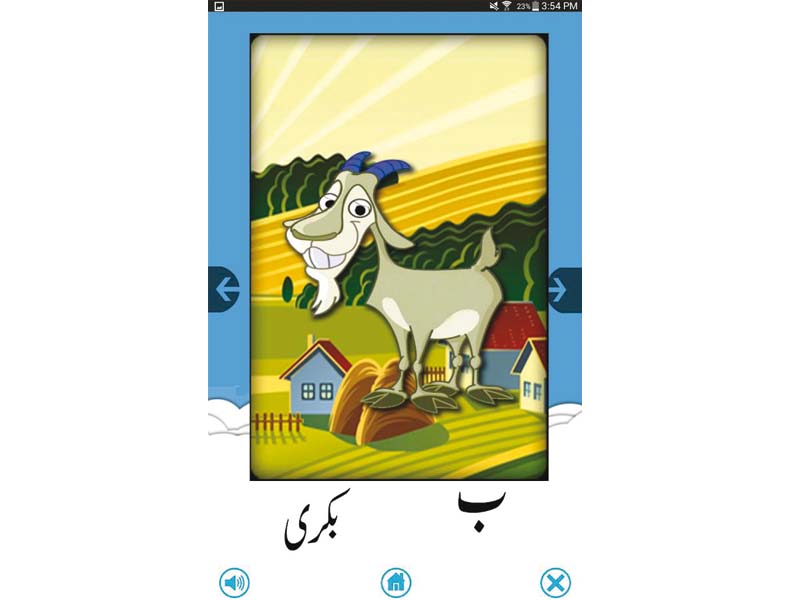 ---
SUKKUR:



For parents living outside Pakistan who want to teach their children the Urdu language, a group of students at Sukkur Institute of Business Administration (IBA) have launched a phone application.




'Urdu Qaida' is available for Android users to download free-of-charge from the Google Play store. "It is an interactive app designed to make Urdu learning fun for kids today," said Imran Leghari, who is doing his MBA in marketing. This app teaches Urdu in five phases: Urdu Qaida, which is the alphabets, Mashq Copy, an exercise book, Shaklein Pehchanein [recognise the images], and Matching and Bubble games.




In the first phase of the Urdu Qaida, there are flashcards with voiceovers that enable children to learn the Urdu alphabet. In the second phase, the Mashq Copy includes an interactive game that allows children to write Urdu letters using four different coloured pens, explained Leghari.

The app developer, Asadullah Laghari, who is a student of MS Networking, felt that Shaklein Pehchanein is a more fun app for children. In this phase, they identify a picture by selecting the correct answer from the given options.

The matching game will further enhance their capabilities by enabling the children to match the pictures with the relevant word, he went on to explain.

In the Bubble game, children will have to identify the correct letter flashing in the bubble.

The inspiration to launch Urdu Qaida came from a teacher. "I would like to give credit to our teacher and mentor, Sir Ali Akbar Rizvi, for initiating and imparting this idea into our minds," said Imran, referring to the former director for the Centre for Entrepreneurial Development and Leadership at Sukkur IBA. "He told us that our nation's kids living out of the country need to have a full command over our national language. They must be aware of the beauty of this civilised language."




Imran felt that children are more tech-savvy now than they used to be in the past. "You will find even a two-year-old holding a tablet PC and using it like an adult," he said. "We felt the need to launch this app as children do not want to learn through orthodox teaching methods anymore." He shared their success with Sukkur IBA's Incubation Centre that helps budding entrepreneurs.

For the Leghari duo, developing apps is not a new venture and they have successfully launched one for Pakistani news watchers, pointed out Sukkur IBA's marketing manager Talha Shaikh. These entrepreneurs are working hard to serve Pakistanis, he said.

"People are developing mobile apps for foreign companies and making money but we wish to serve Pakistanis whether they are living in the country or living overseas," said Asadullah.

The marketing half of this duo, Imran, shared that he wants Urdu Qaida available for iPhones and Windows phones as well. The students hope to develop applications particularly for Pakistanis studying abroad. These may include apps to provide information on Islam, the teachings of the Quran, the life of the Holy Prophet (pbuh) and the proper way to offer Namaz.

Published in The Express Tribune, June 29th, 2015.