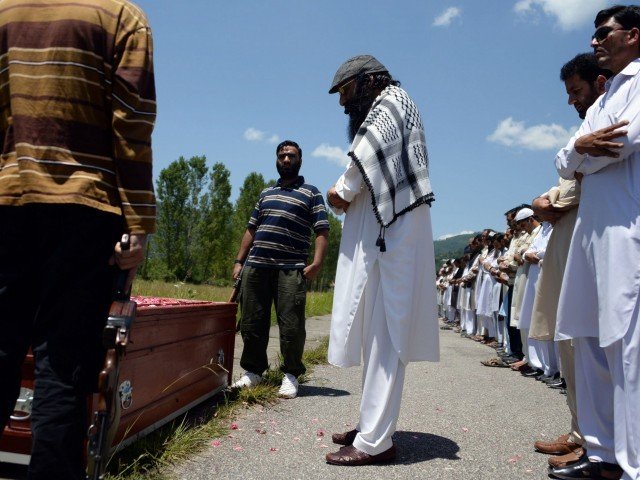 ---
MUZAFFARABAD:



The funeral prayer of Waheed Noor, a resident of Rawalakot, Azad Jammu and Kashmir (AJK) who was killed in a bomb blast in a police van while being taken to the Srinagar Central Jail following a court appearance in Sopore on June 20, was offered at the Rawalakot Airport here on Saturday.




The United Jihad Council (UJC) Chairperson, Syed Salahudin led the funeral prayer attended by a large number of people including AJK Jamaat-i-Islami Chief Abdur Rahid Turabi. The body of Noor, who was arrested by the India Army after he crossed the border into Sopore in 2010, was handed over to the Pakistani authorities at Wagah border on Friday.

The body was later handed over to Noor's brother Zahid. The UJC chairman paid glowing tribute to Noor blaming Indian agencies for the bomb blast, which claimed Noor's life.

"It was planned by Indian agencies to eliminate Noor as the court was about to issue his release orders but they (Indian agencies) were not in favour Noor's release," he said. Salahudin said that Noor was the second detainee to be killed in this manner. He said that earlier Shakil Ahmed was killed.

Salahudin appealed to the world human rights organisations to raise the issue with the Indian government and take notice of the killing in police custody.

"Following the killing of Noor, we are worried about the safety of other political prisoners who are in held in the Indian Kashmir and other cities," he said.

Zahid said that the government of Pakistan should raise the death of his brother in police custody at international forums to expose "Indian terrorism".

Published in The Express Tribune, June 28th, 2015.