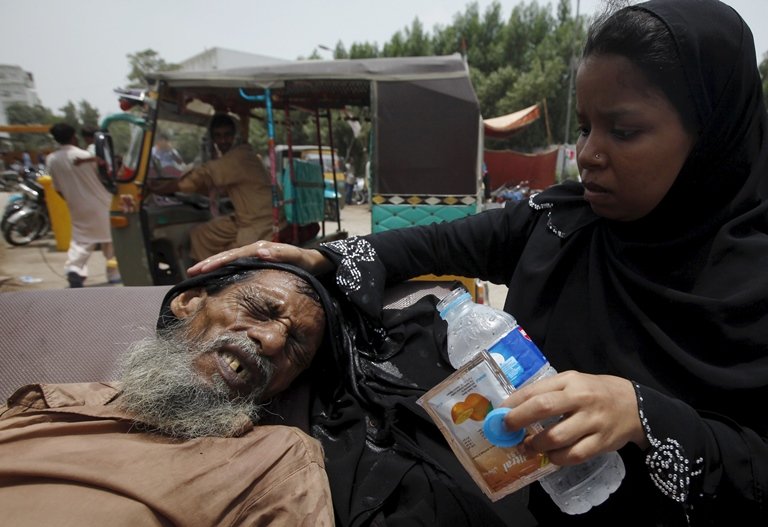 ---
KARACHI: What was meant to be a discussion about torture in Pakistan was turned into a debate on the government's response - or lack thereof - to the deadly heatwave that has claimed the lives of hundreds of people in the metropolis in the last week, as the audience questioned Sindh Assembly deputy speaker Shehla Raza about the water and electricity crises.

The Asian Human Rights Commission, Human Rights Commission of Pakistan and Pakistan Institute of Labour Education and Research organised an event to commemorate the UN International Day in Support of Torture Victims at Arts Council, Karachi, on Friday.

"What about the mental torture that the government has been inflicting on the people of Karachi? What about the people who have died of heatstroke?" asked a member of the audience, as Justice (retired) Majida Rizvi, who was moderating the event, agreed that the lack of water and power was also a form of torture.

The questions were, however, ignored by Raza, who tried to get the discussion back on track. Presented with a draft of a proposed bill against torture, she pointed towards the silence of the people as one of the reasons custodial torture remained a reality in Pakistan. "Even if this bill is passed, what difference will it make when our attitudes do not change?"

Hasan Athar from the AHRC pointed out that Pakistan ratified the United Nations (UN) convention against torture in 2010, but even five years on, there was no legislation for it.

"The fact that there has been no legislation about this shows that the government wants to keep the weapon of torture in its hands," claimed Piler executive director Karamat Ali.

Piler's Zinnia Shaukat also accused the state of nurturing different forms of torture in the name of politics.

"War or other disturbances in the country do not give the government the right to torture anyone," said Asad Iqbal Butt from HRCP, adding that the tortured corpses of missing people were thrown on the roads in Balochistan, Khyber-Pakhtunkhwa and Sindh.

Telling the audience that over 90 Muttahida Qaumi Movement workers had been whisked away since the ongoing operation started, party MNA Suleman Mujahid Baloch asked: "Who can know better than our party how crucial it is to recognise this day?"

A member of the audience suggested that anti-torture desks should be established at police stations to curb custodial torture.

Published in The Express Tribune, June 28th, 2015.