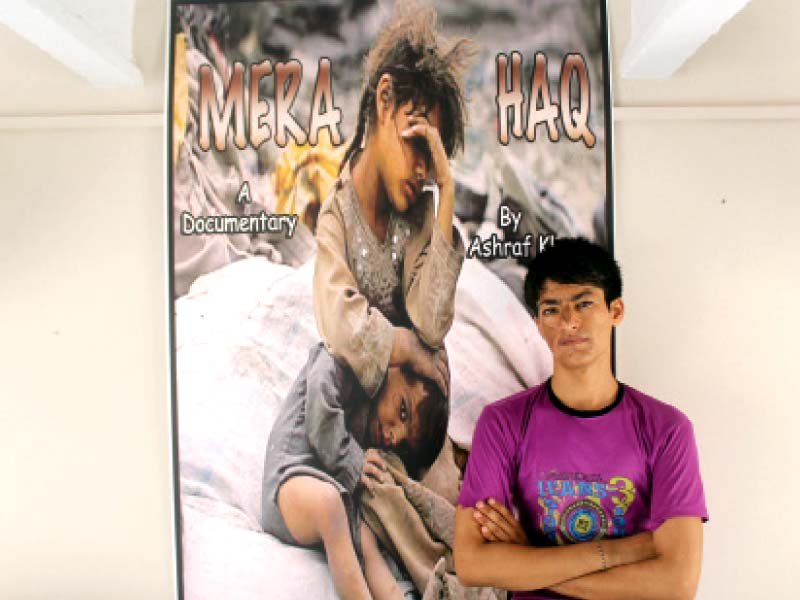 ---
KARACHI:



A part of his face may still be scarred but this strapping young 18-year-old man from Quetta has eyes full of dreams, and some of these dreams have begun to come true.




Life changed for Ashraf Khan since people from Institute for Development Studies and Practices (IDSP)-Pakistan stumbled upon him. The teenager has learnt lessons beyond his years. By the age of 15, he had already experienced poverty, an acid injury, garbage picking as a profession, and drug addiction as an escape.

Read: Balochistan unrest: FC nails six alleged insurgents in separate raids

"It was Ramazan and I was seven years old," recalled Ashraf. "We put slabs of wood on the wall as makeshift cupboards and one of them carried a bottle of acid. I was sleeping on the floor. It was dark. My mother came to pick something and dropped the acid on me by mistake."

His handsome features, once ravaged by acid burns, have now begun to emerge again, thanks to the treatment for which IDSP and Indus Hospital have helped him. Ashraf became a garbage picker around the same time he had the accident. With nine siblings and a father too old and sick to work, child labour was inevitable, that too the worst kind as a scavenger of waste.

"I would earn Rs200 to Rs300 a day, and would spend it mostly on my treatment," he said. "I used to get two injections a day. My face used to bleed and I would smell of and ooze pus. People could not sit with me and have food."

Finding a guiding hand from IDSP, he was brought to Karachi some two and a half years ago when he was operated on at Indus Hospital. "I cannot express how happy I was. My Ammi could not believe it when my brother sent her my picture. I had a face once again." Ashraf has never been to school and talks in Urdu with difficulty, but has already produced a documentary film on the plight of garbage pickers and it has been well-received.

Read: Balochistan govt announces general amnesty for militants who lay down their arms

Budding filmmaker Ali Ahmed (top) dreams of one day making a film that will be shown in a cinema, while young Ashraf Khan (bottom) has overcome poverty, an acid injury and drug addiction to produce a documentary on the plight of garbage pickers.


Ali Ahmed. PHOTO COURTESY: ALI AHMED

Ashraf is one of the 30 students who exhibited their short films and documentaries at the Pak-American Cultural Center under the IDSP Film Festival, 2015. Sensitive subjects, such as target killing, violence, human rights, living in conflict zones, sectarian violence and social marginalisation were tackled deftly in these films. "All the funding to make these films was provided by IDSP," said Asma Zafar, IDSP's institutional support manager, who is a mentor to many young people from Balochistan.

Read: In session: Balochistan Assembly debates power shortage

Ashraf admitted the idea to make a film came to his heart. "I want more and more people to see it so that people understand what garbage pickers go through," he said about his production and directorial debut in which he dabbled with a little bit of acting too.

Today, Ashraf has started reading and writing, and he guides other young garbage pickers in Karachi. "Only a garbage picker can understand the problem of another one," he said, sharing his dream of setting up a centre for garbage pickers. "When young people do not get mentors and guidance, they can get lost. If I had not gotten guidance, I would be just another druggy lost on the streets and life would have left me behind."

Pursuing his passion: Two goats for a film

Another budding filmmaker, Ali Ahmed, 23, is ready to pay any price to pursue his passion for film making. "I had to sell two of my goats to make the film and come to Karachi for the screening," he said. "My family thinks all films are vulgar like the Bollywood ones. I want to make films that remove their misconception."

Read: Water for all: Gwadar desalination plant ready after probe

Ahmed's father wants him to go to Dubai instead to make some money but he insisted on pursuing his passion for filmmaking. "I have started a small production concern in Quetta and I dream that one day I will make a film that will be showed in a cinema."

His 20-minute-long film, called 'Dhutuk' meaning doll in Brahwi, comments on the devastating effects of terrorism on families. "I want to show that when one person dies in an act of terrorism, an entire family dies with him or her." After coming to IDSP, Ali feels he has found his calling and knows what to work towards.

Published in The Express Tribune, June 28th, 2015.