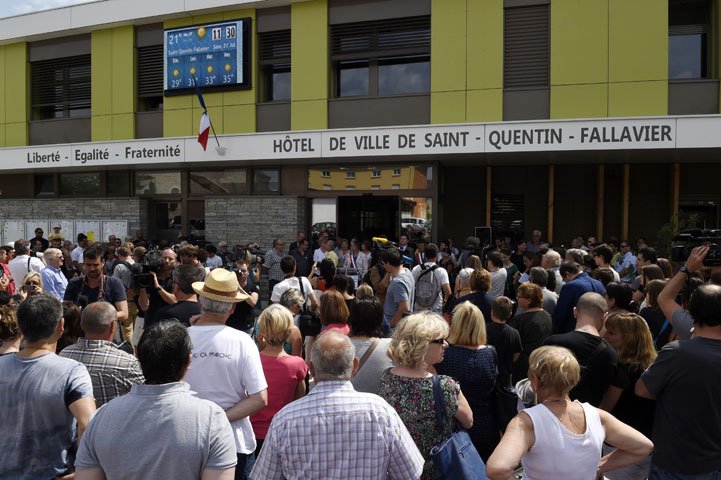 ---
PARIS: French police interrogated a suspected terrorist Saturday as they tried to piece together an attack in which the man put his boss' severed head on display in the second terror attack to hit France in six months.

Prime Minister Manuel Valls, who rushed home from an official trip to South America, warned that France faced more attacks and that Friday's assault on a gas factory near the second city of Lyon would increase tensions in the country and put citizens' resilience "to the test".

President Francois Hollande called an urgent meeting with Valls and key ministers Saturday, as his government grapples with the terrorist threat facing France, which has seen hundreds of citizens leave to join militant groups in Iraq and Syria.

No group has claimed the French attack which struck on the same day as a massacre at a Tunisian beach resort in which 38 people were gunned down and a suicide bombing in Kuwait that killed 27. The other two attacks have been claimed by the Islamic State (IS).

A suspect, Yassin Salhi, 35, is being held by French police for causing an explosion by driving a delivery van into a warehouse containing bottles of dangerous gas and chemicals at the US-owned Air Products factory in Saint-Quentin-Fallavier, some 40 kilometres from Lyon.

Firefighters overpowered Salhi before discovering the decapitated body of his 54-year-old boss -- who ran a delivery firm -- near the car, along with a knife. The victim's head was pinned to a nearby fence, surrounded by two IS flags, French prosecutor Francois Molins said.

Valls warned Friday's attack would fuel tensions in France -- home to Western Europe's largest Muslim population -- that "will be exploited". "It's difficult for a society to live for years under the threat of attack," he told AFP on a flight back from Bogota, adding: "The question is not... if there will be another attack, but when."

"This macabre act of decapitation, staged with flags, is new in France" and aimed at "making an impact," Valls said. Beheadings -- an act of "dehumanisation and animalisation" according to University of Geneva historian Michel Porret -- have in recent times become a trademark of IS in Iraq and Syria.

The gory attack in France came nearly six months after a three-day killing spree in and around Paris left 17 people dead, most of them gunned down in the editorial offices of satirical magazine Charlie Hebdo.

Speaking in Brussels after cutting short an EU summit, French President Francois Hollande labelled the factory beheading "a terrorist attack."

Salhi had been known to security services for a number of years but did not have a criminal record, Interior Minister Bernard Cazeneuve said. The married father-of-three had been investigated for links to radical Salafists in Lyon, but was not identified as having participated in terrorist activities. A co-worker described him as "a wolf in sheep's clothing" to RTL radio, adding that Salhi had spoken to him about Islamic State -- "not to try recruit me for anything but simply to ask my opinion".

Molins said Salhi's wife, sister and another man had also been taken into custody, while a second man is being investigated on terrorism-related charges but his link to the attack is not clear, and Molins said there was no indication that Salhi had an accomplice with him during the assault.

A woman identified as Salhi's wife told French radio: "On the news they are saying that it's a terrorist attack, but that's impossible. I know him, he's my husband. We have a normal family life."

Air Products boss, the US firm that owned the factory, said he was "horrified and saddened" by the attack.

Hollande ordered security tightened to the highest possible level in the region. For months, Europe has been on high alert for so-called "lone wolf" attacks by supporters of Islamic State, which has urged its followers to strike wherever they can. Earlier this week, France passed a controversial new spying law granting sweeping powers to snoop on citizens.
COMMENTS
Comments are moderated and generally will be posted if they are on-topic and not abusive.
For more information, please see our Comments FAQ