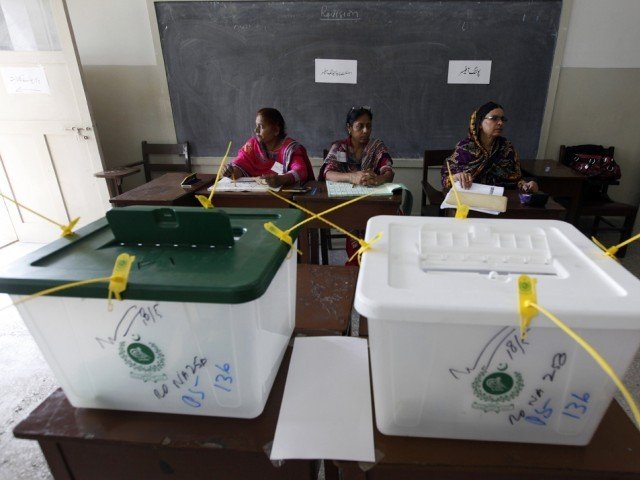 ---
PESHAWAR:



The Election Commission of Pakistan's announcement of local government poll results on June 24 opened another Pandora's box among political circles of Khyber-Pakhtunkhwa. Parties maintained their calls of irregularities were validated by the ECP which decided to conduct re-polls in at least 365 polling stations on July 5.




The re-poll schedule has clearly left the warring parties unsettled as they believe polling in Ramazan is not the best of solutions. Voter turnout on May 30 was lean and polls were largely marred by law and order disturbances across the province. Civil administration sources confirm security remains a grave concern in the holy month.

Jamaat-e-Islami was the first to come out clear against the July 5 re-poll announcement. Talking to The Express Tribune, JI K-P Information Secretary Israrullah said the ECP should arrange a meeting of all stakeholders and take them into confidence over the schedule.

"Extremely low turnout is expected due to the scorching heat. People will be also be fasting," he said.

Qaumi Watan Party spokesperson Tariq Khan voiced similar sentiments, adding his party will "announce its position soon."

On the flipside, opposition parties are already up in arms with rigging claims against the ruling parties. Awami National Party parliamentary leader Sardar Hussain Babak said, "Mobilising people in Ramazan will not be easy. We will decide upon the tripartite alliance's course of action after consultation." Earlier, Babak had said the re-poll announcement proves their claims of irregularities right. "Pakistan Tehreek-e-Insaf is now morally bound to quit," he told The Express Tribune.

Many tripartite alliance leaders are in favour of boycotting the July 5 re-polls. Jamiat Ulema-e-Islam-Fazl leader Abdul Jalil Jan maintains the Khattak administration should resign and "let the judiciary takeover for a month so that re-polls can be held transparently".

On the contrary, the ECP is yet to decide upon the security arrangements for the re-polls that will be held in as many as 15 districts of K-P. "All the 365 stations are sensitive. Extraordinary security measures need to taken," said a Peshawar ECP official. Requesting not to be named, he confirmed reservations have been voiced over the July 5 decision by all parties. "The chief election commissioner's decision will be final in this regard."

Re-polling will be held in 16 out of Peshawar's 92 union councils where PTI had gained a majority during the May 30 polls. Similarly, ballots will be cast again in 22 UCs of Nowshera, nine of Swabi and 16 UCs of Charsadda.

Payback time

The government has directed civil authorities to collect official vehicles, wireless sets and other official belongings from nazims, naib nazims and councillors whose term ended back in 2009. The LG department has already issued notices in this regard.

Published in The Express Tribune, June 27th, 2015.