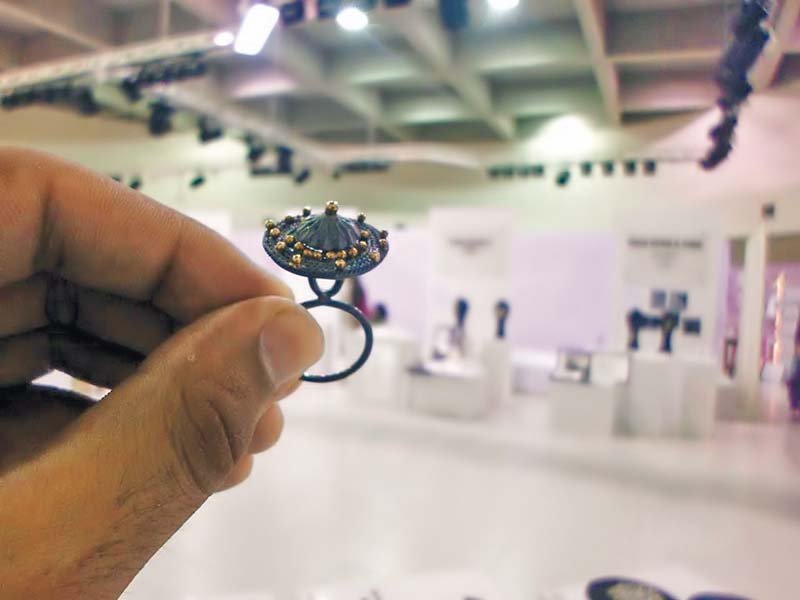 ---
PESHAWAR:
Jewellery as an art form has slowly become a part of Pakistan's contemporary repertoire. Emerging artists have taken to hammering out their expressions in statement rings and necklaces with a backstory. Then there's the flood of imitation jewellery and knock-offs in the markets. With trends shifting every season and then with every Indian blockbuster, traditional Pukhtun jewellery faces a risk of disappearing into the pages of coffee table books.

But not if Alizai Bilal Khan has anything to do about it. The young artist-turned-entrepreneur's vision is to revive traditional jewellery by amalgamating it with contemporary expression. We've heard of fusion cuisine; any one fancy a side of fusion jewellery?

A graduate of Lahore's National College of Arts, Alizai said his objective was to give a fresh look to traditional Pukhtun jewellery and transform it from old school to contemporary. "This will not only help to revive the old, but set new trends in the market," Alizai told The Express Tribune.

The grand motif

His inspiration comes from designs and patterns found in wood carvings and the bright embroidery of Swat Valley.

Swat has an ancient love-affair with embroidery. Women in their 80s today treasure the handwork of their mothers as embroidery of that quality no longer exists. As a result, Swat's threadwork is now iconic. While families used to have heirloom patterns, today museums struggle to showcase rare embroidery as little has been preserved.




Alizai's earrings and pendants, however, are a clean but modern throwback to these intricate designs and the touches of gold reminiscent of zardozi.

The Gandhara period is also celebrated in his work. Such art has been produced in the scenic valley since those ancient times and the relics left behind pay homage to their respective eras, demonstrating how talent has always flourished in the valley. Even today, Swat's artists take keen interest in carving out nature, geometrical shapes, daily activity and various flowers.  Alizai pointed out wood carvings also feature vines and branches and some geometrical elements of Islamic art.

He believed this was clearly representative of the close relationship people of the valley have with nature, even before Islam reached Swat.

And "jewellery will make that a part of people's lives once again."

Alizai added there were a number of artists and designers working towards the preservation of Pukhtun arts and crafts in Swat and Mingora. They helped him identify and adopt certain representative designs so he could depict them as an original art form of the region.

For example, Roshni Centre works to preserve traditional phulkari (flower embroidery). It offers special training and job opportunities to women of the valley.




"These art forms have passed on from one artist to the other and it is these artisans who have dutifully preserved the art of wood carving," said Alizai. He added his jewellery designs would also preserve and spread knowledge about Swat's art.

Building stock

So far, Alizai has made dozens of necklaces, brooches, bangles, rings, earrings and studs at his workshop, but not yet on a commercial basis. The aim is to create new designs and trends in the market by combining eastern and western methods.

The modern techniques used by him include metal stamping, inlay, filigree, granulation and oxidation. The bright and intricate jewellery offers people a link between indigenous culture and contemporary trends.

"Men and women do not feel comfortable wearing heavy Pukhtun jewellery and prefer something lighter," he highlighted. "The focus is innovation; to adopt ancient jewellery and other arts in such ways that it appeals to today's crowd."  He added, "Minimalistic trends in wearable art pushed traditional and heavy jewellery out of fashion. Now we have to breathe new life into our traditional jewellery."

Published in The Express Tribune, June 27th, 2015. 
COMMENTS
Comments are moderated and generally will be posted if they are on-topic and not abusive.
For more information, please see our Comments FAQ