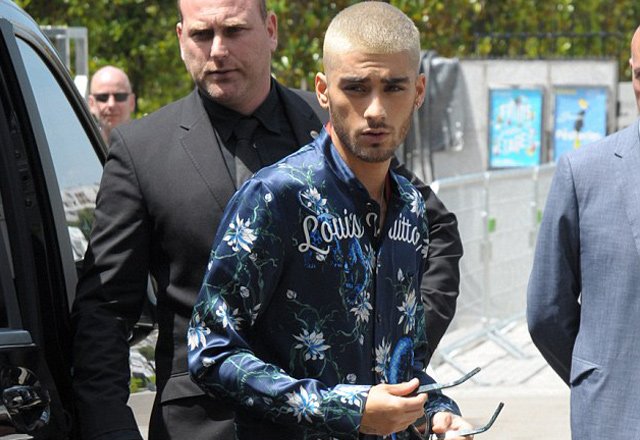 ---
Zayn Malik might have bid adieu to One Direction but he is always makes headlines for his attire and appearances at events.

At Louis Vuitton menswear runway show in Paris, Zayn looked cool and casual in his choice of attire. According to Mail Online, he was sporting a silk floral shirt in navy blue by the house's spring 2016 collection. The shirt also had Louis Vuitton embroidery across the chest. He donned on matching chinos and white trainers to complete the look. Clad in the edgy hip ensemble he looked like he was pulled straight out of the Louis Vuitton runway.


PHOTO: VANTAGENEWS.CO.UK
PHOTO: VANTAGENEWS.CO.UK

He then wore a fashion-forward white shirt with abstract prints on the front and dressed it down with ripped jeans.


PHOTO: VANTAGENEWS.CO.UK

Read: Zayn Malik wants to explore fashion industry

It appears that Zayn has adapted to a more individual and personally customized style that screams 'rock star!'

The rock star has always had a thing for experimenting. He had first colored his hair green and now he was seen with bleached blond hair closely cropped to the scalp.


PHOTO: INSTAGRAM

Read: #GreenHairDontCare: Zayn Malik debuts new look

The star is also interested in exploring the fashion world. He is not putting his career in music on the back-burner, but plans to take the fashion industry seriously.

"Music will always be his priority but fashion could be more than just a side project. The long-term aim could potentially earn a big-money endorsement deal with a huge fashion brand," The Sun quoted a source as saying.

Read: Zayn Malik to cut off from Simon Cowell and join 50 Cent

"Zayn has always been very creative and introverted. He tried out various looks and styles during his time in One Direction, which has led to interest from top fashion houses," added the source.
COMMENTS
Comments are moderated and generally will be posted if they are on-topic and not abusive.
For more information, please see our Comments FAQ