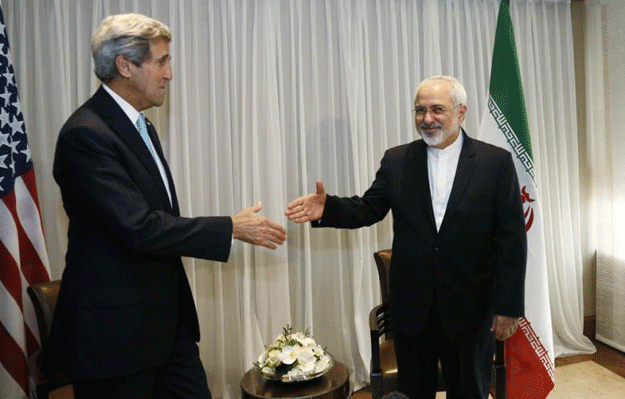 ---
TEHRAN: Iran said Friday there were few gaps to be filled to finalise a nuclear agreement with the major powers by a Tuesday deadline but that they were big ones.

US Secretary of State John Kerry was due in Vienna later on Friday to join the drive to fill in the holes in a framework accord struck in April to seal a historic deal.

His Iranian counterpart Mohammad Javad Zarif is to join him on Saturday as Tehran strives to secure an end to years of isolation and crippling Western economic sanctions in return for reining in its nuclear programme.

"It is true that progress has been made and that the gaps have been filled in a large part of the text of a final agreement," Iran's official IRNA news agency quoted a source close to its negotiating team as saying.

Read: The significance of Iran's nuclear framework deal

"But the gaps that remain all involve issues of substantial and essential divergence," the source said.

The news agency did not detail the points of contention but other Iranian media said that they concerned the timetable for the lifting of sanctions, access for UN inspectors to Iranian military sites, the long-term future of Iran's nuclear programme and the scale of its future research.

Iran and the six powers already missed two deadlines in their quest for the outline deal reached in Switzerland in April.

A senior US official acknowledged on Thursday that they may miss next week's deadline too as they thrash out the final elements of a deal.

"We may not make June 30, but we will be close," the official said.
The Iranian foreign minister too has said Tuesday's target may be missed by a few days.

Read: Iran, global powers agree 'key parameters' of nuclear deal

The mooted final accord between Iran and the six powers -- Britain, China, France, Russia and the United States plus Germany -- will be a highly complex agreement 40-50 pages long, including several appendices.

It will set out an exact timetable of sanctions relief and reciprocal steps by Iran, as well as a mechanism for handling possible violations by either side.

Tricky issues include how UN sanctions might be re-applied, the reduction of Iran's uranium stockpile and its future research and development of newer, faster types of centrifuges for uranium enrichment.

Iran must also address lingering questions about the possible past military dimensions of its nuclear programme to the satisfaction of the UN watchdog.
COMMENTS
Comments are moderated and generally will be posted if they are on-topic and not abusive.
For more information, please see our Comments FAQ