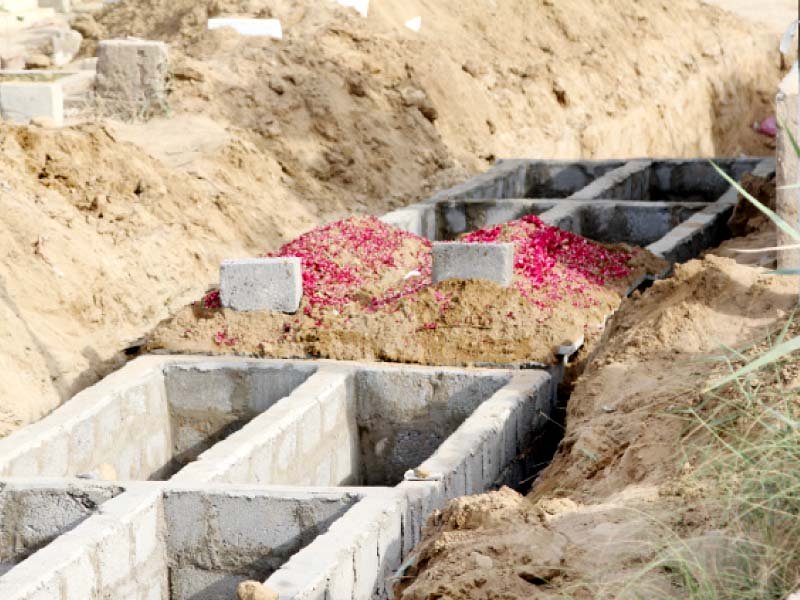 ---
KARACHI: Around 500 communal graves have been dug up in Muhammad Shah graveyard of North Karachi and Sadiqabad graveyard in New Karachi, in what is most likely the first such move in the city.

The decision to dig up communal graves comes after nearly 1,000 of Karachi residents lost their lives in the unforgiving heatwave that started with the advent of Ramazan on Friday. As cemeteries have run out of space, the Karachi Metropolitan Corporation (KMC) decided to dig up communal graves at the only two sites that have space for the dead. Any person who dies in the city will be buried at either of these locations.

Read: No mercy: After morgues, city runs out of funeral vans

The KMC has also set up a camp outside Muhammad Shah Graveyard to make sure that the 'graveyard mafia' are unable to charge exorbitant prices for graves and other burial rites.

KMC graveyard department's deputy director Muhammad Sarwar Alam, who was heading the camp, told The Express Tribune that only 47 graveyards, out of a total of 192 in the city, are registered with them. "Of these 47 cemeteries, only two graveyards are open for public," he said, adding that the rest of the graveyards in the city do not have space. He forbade people from taking their deceased loved ones for burial to other graveyards.

According to Alam, they are ensuring that no gravedigger charges more than Rs5,850 for a grave. "This is the price set by the government," he said. "If any gravedigger is found charging more than this amount, he'll be arrested immediately."

Alam pointed out that  there  were 350 burials at Muhammad Shah Graveyard in the last five days and 250 at Sadiqabad.

Read: Fatal heatwave: Karachi running out of space for the dead

"There are hundreds of corpses in morgues in the city," he said. To avoid the spread of any more diseases due to the presence of corpses, the KMC decided to dig up around 500 graves in these two graveyards, he explained. "The process of digging kicked off with the help of an excavator and the graves will be ready. People will just have to come and take a receipt."

He wanted to clarify that these were not mass graves. All of them are separated by bricks, he assured. "We are just preparing them in advance to lessen the burden on morgues."

Published in The Express Tribune, June 26th, 2015.
COMMENTS (6)
Comments are moderated and generally will be posted if they are on-topic and not abusive.
For more information, please see our Comments FAQ