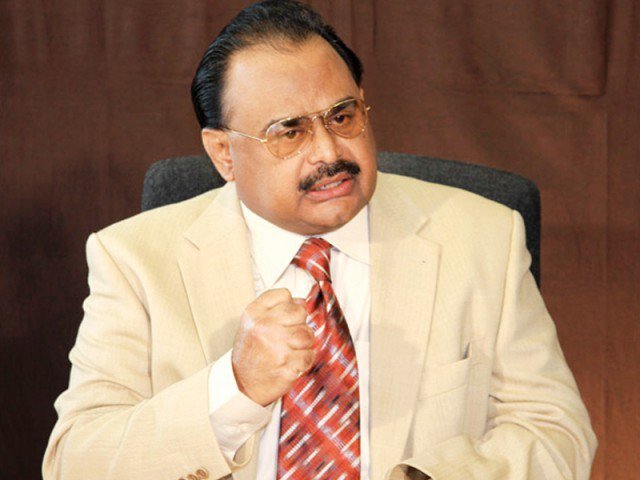 ---
KARACHI: A day after a damning BBC report alleged that the Muttahida Qaumi Movement (MQM) had received funding from India, party chief Altaf Hussain rejected the assertions, terming them as false and criticised Interior Minister Chaudhry Nisar Ali Khan for failing to tackle corruption of those within the federal cabinet.

Citing an 'authoritative' Pakistani source, the report by Owen Bennett-Jones claimed that senior MQM officials, in formally recorded interviews, admitted before British authorities that the party has been receiving funds from the Indian government.

Quoting a Pakistani official, it claimed that India had trained hundreds of MQM militants in explosives, weapons and sabotage over the last 10 years in camps in north and north-east India.

Read: Karachi unrest: MQM received funds, training from India, BBC

Addressing party workers via telephone from London on Thursday evening, the MQM chief said he respected the British media organisation, but rejected the allegations levelled against his party members that they were members of Raw.

"Who were the "Authoritative Sources" that BBC quoted in their documentary?" Altaf asked.

The MQM chief added that western news channels like the BBC and CNN had also claimed that there are weapons of Mass destruction in Iraq, and that these allegations were later found to be false.

"My Legal team is looking into the BBC documentary against MQM and we will announce our legal plan soon."

Altaf added that media channels are more than welcome to criticise MQM but they should avoid being biased against it.

"If we were really trained by the Indian establishment then it wouldn't have been so easy for Rangers to kill us like this."

The MQM chief also criticised Interior Minister Chaudhry Nisar, saying that the minister should also expose Finance Minister Ishaq Dar's money laundering.

"Ishaq Dar himself accepted of being involved in money laundering," he said.

About the visit that the British High Commissioner paid Nisar, Altaf said that the Commissioner should be recalled and briefed about Dar's corruption.

He added that if the interior minister wants to probe the BBC documentary against the MQM, he should also probe the 2008 documentary by the same media organisation against the ISI.

Altaf said many 'big fishes' were given 'clean-chits', adding that Nawaz Sharif, rather than being sent to jail, was made the country's prime minister.

Read: Establishment to seek treason trial against MQM chief Altaf Hussain

The MQM chief told his workers that in case he is murdered or killed, their struggle should carry on.

"To finish this 37 year movement, 37,000 conspiracies have taken against us. But none of them have been successful."

He said numerous conspiracies had been hatched against the party since its inception, but they could not break the party nor reduce the love of his followers.

"More than 41 of our workers have been killed during the Karachi operation," he said.

Rangers lying about Waqas Shah

Commenting about the arrest MQM worker Waqas Shah's killers, Altaf said that Rangers had once again lied about the killers of Shah.

"I demand Judicial Commission on Waqas Shah's murder case, I am ready to prove Rangers involvement in this case."

Refering to DG Rangers, the MQM chief challenged him to go on to the streets of Kashmir and fight for independence.
COMMENTS (21)
Comments are moderated and generally will be posted if they are on-topic and not abusive.
For more information, please see our Comments FAQ