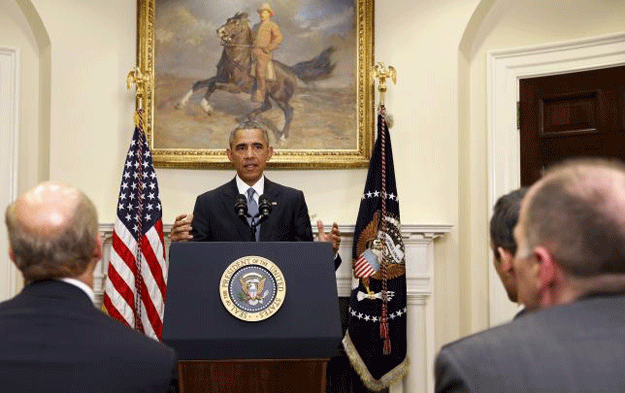 ---
WASHINGTON: President Barack Obama on Wednesday announced a more coordinated US response to help rescue Americans held hostage by terrorists abroad, and acknowledged his government had sometimes let the families down.

After an emotional meeting with relatives of hostages, he said: "I acknowledged to them in private what I want to say publicly, that it is true that there have been times where our government, regardless of good intentions, has let them down."

He added: "I promised them that we can do better."

The president reasserted the main plank of US policy that, unlike some allies, the government would not make concessions or pay ransom to hostage takers, saying this would enrich the militants and encourage further abductions.

However, he set out a more cooperative policy in which the government would work with the families, and said a special presidential envoy would be appointed to coordinate the efforts of law enforcement and diplomats.

Read: Obama to drop US threat of prosecution over hostage ransom -NY Times

Government officials would now be allowed to communicate and negotiate with hostage takers.

The new approach was drawn up over six months after complaints by families that their initiatives to free relatives had been discouraged and sometimes blocked by officials who threatened legal action if they raised a ransom privately.

He said - as did a separate statement from the Justice Department - that such threats should never happen again, and that no American had been prosecuted for paying a ransom.

The new approach, set out in a presidential directive, allowed "communication with hostage takers by our government, the families of hostages or third parties who help these families," Obama said.

Solidarity with the families

"When appropriate, our government may assist these families and private efforts in those communications, in part, to ensure the safety of the family members and to make sure that they're not defrauded," he added.

He was talking to lawmakers, officials and activist groups at the White House after an hour-long meeting with about two dozen family members and former hostages at which he shook the hand of every guest and expressed regret at mistakes made in the past.

Read: Obama defends US actions, denies they are losing against Islamic State

Some participants said that, although there was an appreciation of the changes Obama had made, there also was skepticism about whether the bureaucracy would respond in the way he described.

There will be a review after six months of how the new procedures work, with input from the families. One family said the changes should be assessed in light of whether their son had been released from captivity.

A central office is to be created at the Federal Bureau of Investigation to bring together experts from across the government to locate and free hostages and Obama said it would work closely with the families.

The issue exploded last summer when black-clad Islamic State militants posted gruesome videos on social media of the execution of a number of Americans and others held in Syria.

Obama said more than 80 Americans had been taken hostage abroad since the Sept. 11, 2001, attacks, and more than half had ultimately come home. White House Homeland Security Adviser Lisa Monaco said more than 30 Americans were now being held.

The families of three slain US hostages - Kayla Mueller, Abdul Rahman Peter Kassig and Steven Sotloff - said that they had faith that the policy changes would lead to more American hostages returning home.

"When we see evidence of this occurring, it will further our healing," they said in a statement.