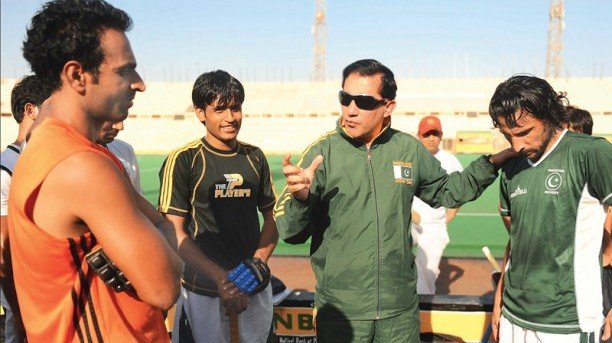 ---
KARACHI: The Pakistan hockey coach Khwaja Junaid is focusing on bringing harmony and consistency to the national squad and not letting the senior players play an individual game that tends to disrupt team performance in international tournaments.

Junaid is currently involved with the 33-man squad training at the Hockey Club of Pakistan in Karachi from which the team for the Azlan Shah Cup will be selected.

"My prime aim is to see the individuals play as a team," Junaid told The Express Tribune."We're working on the grey areas and I'm trying to prevent the players from playing in patches. They either play really well or they play below average and we're trying to get them on the consistency graph."

According to Junaid, the players are playing in units, in small confined positions on the field, which is why the team is unable to deliver the required results.

According to Junaid, the team performed miserably in the World Cup – a 12th place finish in the 12-team event – as the players acted selfish since they did not see the team doing well.

The seniors, added Junaid, start playing their individual game when they come under pressure and that is where the real test lies.

"When a big player feels that there is no coordination in the team, he naturally starts taking all the shots on his own. It's because his motivation-factor isn't the same anymore. The seniors try to save the match and revive the situation on their own and leave out the new players because they don't have much exposure."

Junaid referred to Pakistan's defeat by South Africa in the World Cup when Pakistan equalised 2-2 before halftime but going onto lose 3-2.

The team also equalised 2-2 against Great Britain in the same tournament at half-time but then lost the match 5-2 because "the players came under pressure" and "began to play individually".

"I don't want to target anyone but the seniors dominated the field. This happens everywhere in the world, even in football. It happens more so in hockey because hockey is a faster game than football."

The training camp is less than a week old but Junaid is trying out different combinations while knowing fully well that it will be difficult to change the entire team mentality in a week.

He, however, feels that by bringing harmony in the squad and improving the understanding between the players will guarantee the consistency in the tournaments.

"I've started individual counselling sessions and we're holding video sessions each day as well to show the players where they go wrong. We're also recording every single training session so that the players know exactly what their weaknesses are."

Junaid hinted that the captain for the tournament will in fact be a new player and will be announced before the trails start on April 28.