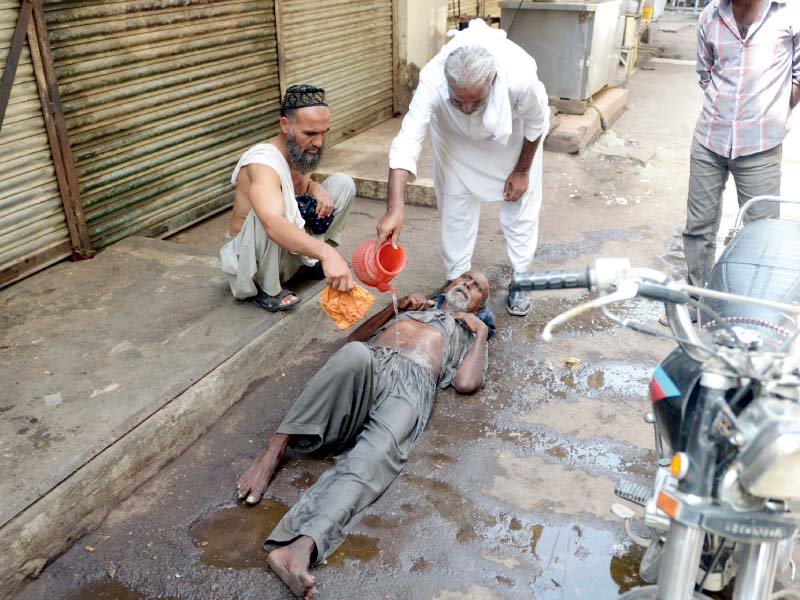 ---
SUKKUR/ KARACHI:



By Tuesday, 702 people in Karachi have reportedly succumbed to the blistering heatwave lashing the port city and other parts of Sindh for the past week.




Ninety-five per cent of the victims were the elderly, Sindh Health Minister Jam Mahtab Hussain Dahar told The Express Tribune. "And most of them belonged to the low-income stratum."

Dr Javed Jamali, the focal person for the Jinnah Postgraduate Medical Centre (JPMC), concurred: "Patients are being brought in from all parts of the city, except those populated by the high-income stratum."




Hundreds have been admitted in overcrowded public and private hospitals in four days, giving the impression that a disaster has struck the financial hub of Pakistan. And the manner in which the situation has been allowed to deteriorate, the impression doesn't seem entirely off the mark.

However, meteorologists have some good news: sea breeze and rain in parts of lower Sindh are likely to bring down the mercury level by Wednesday evening.

Grave statistics

The government is yet to collect and collate the exact death toll in four days, but the management of different hospitals around the city have reported the following figures: 260 people were either brought dead to or died during treatment at the JPMC, 112 at Karachi Metropolitan Corporation-run hospitals (including the Abbasi Shaheed Hospital), 93 at the Civil Hospital Karachi, 62 at the Liaquat National Hospital, 40 at the Indus Hospital, 37 at the Ziauddin Hospital (Clifton, North Nazimabad and Keamari), 32 at the Sindh Government Qatar Hospital Orangi, 20 each at the Aga Khan University Hospital and the Lyari General Hospital, 15 at the Sindh Government Hospital New Karachi, six at the Sindh Government Hospital Liaquatabad, three at the Sindh Government Hospital Malir and two at the Sindh Government Hospital Korangi.

Read: Fatal heatwave: Karachi running out of space for the dead




Meanwhile, a total of 18 sunstroke-related deaths have been reported from six Hyderabad districts. Most of the victims were the elderly. Six people ranging between the ages of 55 and 70 years were reported dead in the last 24 hours alone.

Five deaths have been reported from Tando Allahyar, while two minors were among three people who fell victim to the heatwave in Thatta. Two people have been reported dead in Badin, while one death each was reported from Jamshoro and Sujawal.

The heatwave has also claimed three lives in different parts of upper Sindh, where a large number of people, especially the elderly and children, have been afflicted with gastroenteritis.

A labourer died near Sukkur on Sunday, while a schoolteacher near Sukkur and another person near Dadu were reported dead on Tuesday.

Respite expected

Sea breeze and rain in lower parts of Sindh might bring relief to the heatwave-affected people of Karachi by Wednesday evening, according to the Pakistan Meteorological Department.

The Met Office said the temperature in the port city can go down to 38°C. Moderate rain is expected in Karachi, but the system has now moved towards India.

"Good rain is still possible in lower parts of Sindh, except Karachi," said Abdul Rasheed, the focal person for the Karachi Met Office.

Artificial rain

The Met Department has yet to make a decision on opting for artificial rain in Karachi, said Chief Meteorologist Naeem Shah. "The process is quite risky, and it will also turn out to be an expensive exercise."

Read: Govt mulls use of cloud seeding technology for artificial rains in Karachi

After attending a meeting called by the Ports & Shipping Director-General Abdul Malik Ghauri, Shah said the participants had mulled over the pros and cons of artificial rain. "Nothing has been decided yet."

The chief meteorologist said different departments were involved in the process, adding that the provincial government was yet to be taken on board. "We can go for artificial rain in July if we reach a consensus."

Shah said the Met Department would have to monitor the clouds, and without them the experience won't work.

Met officials have already caused artificial rain in Tharparkar in 2000. Environmentalists, however, believe that artificial rain could disturb the natural system and affect the fertility of the land in the coming years.

Published in The Express Tribune, June 24th, 2015.