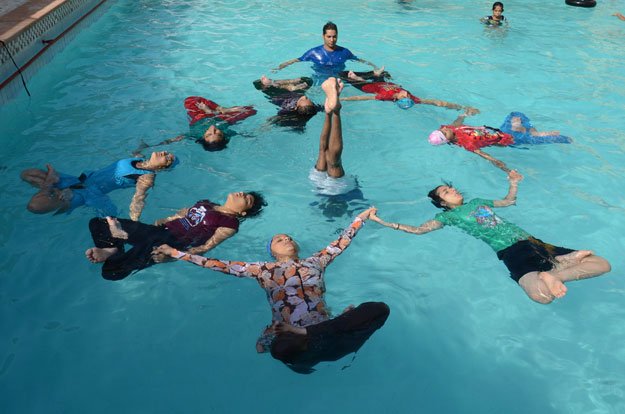 ---
KOLKATA: Indian Union Minister Ravi Shankar Prasad has asked Pakistan to review its stance on International Yoga Day, as countries across the world celebrated with heightened zeal on Sunday.

Yoga will help 'bring peace' in Pakistan, the minister added.

Indian scholars believe yoga dates back 5,000 years, based on archaeological evidence of poses found inscribed on stones and references to Yogic teachings in the ancient Hindu scriptures of the Vedas.
Members of the National Cadet Corps (NCC) take part in a mass yoga session to mark the International Yoga Day in the Brigade Parade grounds in Kolkata on June 21, 2015. PHOTO: AFP

Indian PM Narendra Modi, a vegetarian who practises the art daily, has made Yoga Day a key initiative of his Hindu nationalist government since he took office 13 months ago.

In his maiden address to the United Nations General Assembly, Modi proposed to dedicate a day devoted to the ancient Indian discipline, prompting the UN to proclaim June 21 as the International Day of Yoga.
South Koreans take celebrate International Yoga Day. PHOTO: AFP

While addressing Yoga participants at Sports Authority of India (SAI) complex in Kolkata, Minister Ravi Shankar Prasad mentioned that 44 countries out of the 190 that have recognised the International Day of Yoga are Islamic countries.

"Pakistan too had said that it will talk about yoga in their country but it stopped it all of a sudden. I would request them to rethink as we feel that yoga would help them bring in peace there in their country too."

"Our government want good relations with Pakistan. They had not done it is their matter but it would have been better if they had done it," he told reporters later.

Read:Yoga reduces side effects of chemotherapy

But the government's push for "yoga for harmony and peace" met with criticism in the run-up to Sunday, with some religious minorities accusing Modi of pushing a pro-Hindu agenda in officially secular India.

A few Muslim groups have complained that chanting the sacred Hindu sound of "Om" during yoga and certain poses, such as "surya namaskar" or sun salutation, have clear Hindu overtones and were against Islam.
International yoga Day celebration Nepal. PHOTO: AFP

Prasad dismissed claims that Yoga is about any specific faith and added that it represents all of mankind.
International Yoga Day celebration Paris. PHOTO: AFP

"Yoga is not a symbol of any particular faith, it is not a symbol of any particular path. It is a symbol of mankind, peace and brotherhood. It is a symbol of the culture, heritage of our country. Yoga is for moral values and for the well being of the mankind regardless of its community, faith or nationality," he added.

The article originally appeared on Times of India