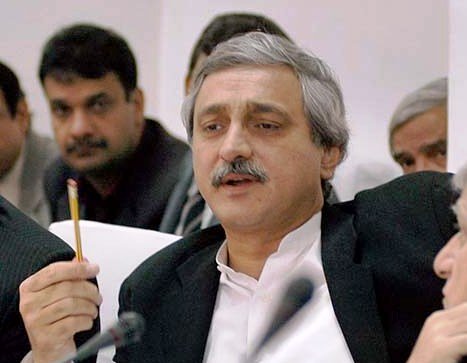 ---
ISLAMABAD: Contrary to Pakistan Tehrik-e-Insaf's stance that they had not been extended an invitation to join the Iftar dinner organised by Asif Ali Zardari, PTI leader Jahangir Khan Tareen on Tuesday clarified that the party avoided participation to register protest against the PPP co-chairman's 'anti-establishment' speech.

In a statement, he said, "I had received the telephone call from Pakistan People's Party (PPP) but we decided, after consultation, not to attend the dinner due to Zardari's attack on the army," Tareen said while addressing a press conference.

Earlier, another prominent figure of the party Shah Mehmood Qureshi had told the media they had not received an invitation from PPP for the dinner.

Read: With one voice, politicians denounce Zardari's tirade

He stressed that the army was fighting war against terrorism and no one should make such statements. "Zardari should withdraw his statement," he said adding, "democracy does not mean looting and we condemn it whether it is by the PPP or Pakistan Muslim League-Nawaz."

Gilgit-Baltistan elections

Tareen reiterated that PTI does not accept the results of Gilgit Baltistan elections due to "massive rigging" by PML-N.

To substantiate his point, he cited the example of Skardu where PTI had won elections with a margin of 200 votes but a recounting was carried out in violation of rules, adding that a fourth recounting resulted in the favour of a PML-N candidate by one vote.

Tareen chosen not to comment on the reports of a rift with Justice (retd) Wajihuddin Ahmed, but said Ahmed was made head of the tribunal to hear complaints of intra-party elections. "The tribunal's job had been done and Ahmed was now issuing personal decisions."

Read: Toning down: Zardari, Altaf push for unity in Pakistan

The PTI leader refuted the impression that PTI was trying to gain more time on the judicial commission constituted to probe alleged rigging in 2013 general elections, saying the commission has taken a break of one week. It is likely that the commission may give its findings during first week of July, he added.

Tareen also said they were analyzing Form 15 submitted by 11 Returning Officers and would present their views on them during the next hearing.
COMMENTS (12)
Comments are moderated and generally will be posted if they are on-topic and not abusive.
For more information, please see our Comments FAQ