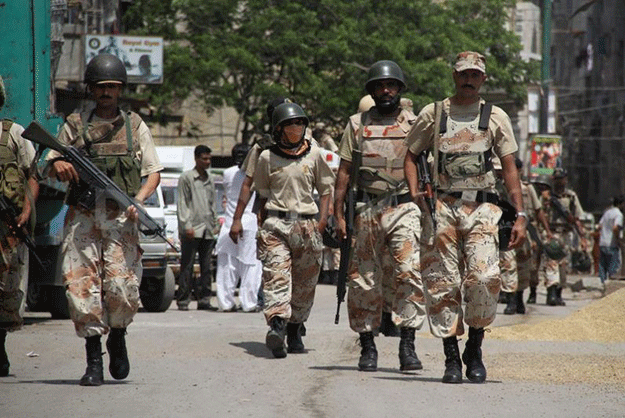 ---
KARACHI: While the city has seen a 32 per cent decline in killings in the first five months of this year as compared to the corresponding period from 2014, more people are now dying at the hands of the law enforcement agencies than by target killers in Karachi.

These findings were revealed in a report by the Human Rights Commission of Pakistan (HRCP). According to the five-monthly report, 255 people have been killed in encounters by the law enforcement agencies from January, 2015, to May, 2015. Of these, 217 were killed in police encounters while the remaining 38 in paramilitary encounters. Another person was killed due to police torture.




Nida Tanweer, a representative of HRCP, has compiled the report. Saying that targeted killings have reduced while encounters have gone up, she was of the view that police encounters are wrong. "No one has the right to kill anyone," she said. "The criminals should be caught and presented in the court."

This year v/s last year

According to the report, around 876 people were killed or died in various incidents in Karachi from January, 2015, to May, 2015. In contrast, the number was 1,286 during the same period in 2014.

In the past five months, 108 persons who had no political affiliation became victims of targeted killings. This number was 339 during January and May last year.

However, sectarian killings saw an increase with 68 killings this year as compared to 59 of last year. May was the deadliest month due to the Safoora carnage. Forty-eight people became victims of sectarian attacks during this month alone.

Thirty-two political activists were gunned down while another 21 were abducted and killed. The report this time includes a new category of killings of social activists and human rights defenders. In the past five months, two of them have died - one of them was Sabeen Mahmud, the director of The Second Floor.

Around 79 dead bodies were found as compared to last year's figure of 177.

There has been an increase in killings of members of banned outfits, with 47 having been killed this year as compared to last year's 15.

Meanwhile, killings of police officers continued with 49 police officers having been gunned down along with four Rangers and soldiers. Sixty-two policemen were killed last year. Another 28 people were killed by robbers while 46 were killed over enmity.

Killings of children have also seen a considerable decline. From January to May last year, 48 children were killed or died. This year, the number has come down to 13. Similarly, crimes against women have also gone down, from 82 to 38 killings.


Other reasons in the report for violent deaths included 12 people being killed by stray bullets, 18 men killed by toxic liquor and another 18 killed on railway tracks.


Published in The Express Tribune, June 19th, 2015.