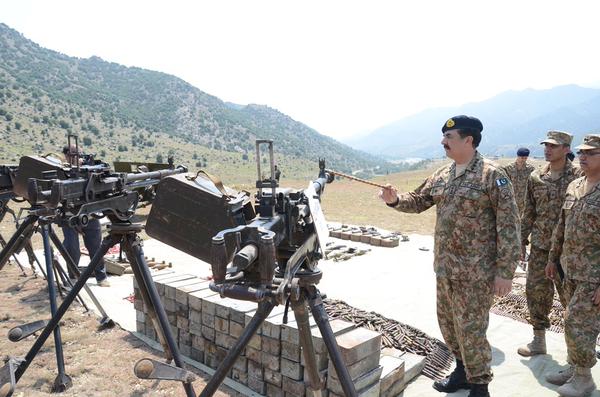 ---
KARACHI: Army Chief General Raheel Sharif has vowed to apprehend all terrorists, their facilitators and financiers in order to achieve the objective of a 'terror-free' Pakistan.

"Noose has been tightened and terrorists will not be allowed to re-establish themselves," said General Raheel while addressing the troops in Khyber Agency on Friday.


Terrorist's strongholds in Agency been reduced&now fight in progress in last few pockets,close to Pak-Afghan border-2 pic.twitter.com/yKtXS5rm8u

— Gen(R) Asim Saleem Bajwa (@AsimBajwaISPR) June 19, 2015


According to Inter-Services Public Relations (ISPR), the COAS spent the entire day with troops and tribals in Khyber Agency. He first visited Jawaro near the Pak-Afghan border and reviewed the progress of the continuing operation, which is in its concluding phase.


COAS returned from Moscow last night & spent his whole today in Khyber Agency on front lines along Pak-Afgn Border-1 pic.twitter.com/j5YMIRQVTD

— Gen(R) Asim Saleem Bajwa (@AsimBajwaISPR) June 19, 2015


The COAS acknowledged and appreciated support of the entire nation, saying that with unflinching national resolve and clear direction, Pakistan will accomplish the objective of a terror-free Pakistan.


Acknowledged entire nation's support.Unflinching national resolve,clear direction will achieve terror free Pakistan pic.twitter.com/VQ6KL0tvDY

— Gen(R) Asim Saleem Bajwa (@AsimBajwaISPR) June 19, 2015


General Raheel said the area in which operation was carried out was heavily infested with IEDs, mostly foreign-made, and after North Waziristan, terrorists in Khyber Agency were using the most rugged terrain as their prepared strongholds.


Noose tightened&terrorist wont be allowed to reestablish.Area most rugged& heavily infested with IEDs,most foreign-6 pic.twitter.com/aMUQEE2DDt

— Gen(R) Asim Saleem Bajwa (@AsimBajwaISPR) June 19, 2015


Read: Russia stands with Pakistan in fight against extremism, Army chief told

The army chief commended their professional commitment and paid rich tributes to them for their sacrifices in restoration of peace and normalcy to the troubled region of Khyber Agency.

He also visited de-radicalisation centre in Bara, where surrendered militants of Operation Khyber were being imparted education and vocational training.


#COAS visited de-radicalization centre in Bara,where surrendered of Op Khyber being imparted education & vocational training-5

— Gen(R) Asim Saleem Bajwa (@AsimBajwaISPR) June 19, 2015


COAS complimented the tribal brethren for their full support to evict terrorists from the agency and also appreciated their resolve of not allowing terrorists to return to these areas. He specially paid rich tributes to the martyrs and those wounded.

General Raheel also lauded the efforts of all law enforcement agencies, in their counter terrorism efforts all across the country.
COMMENTS (12)
Comments are moderated and generally will be posted if they are on-topic and not abusive.
For more information, please see our Comments FAQ