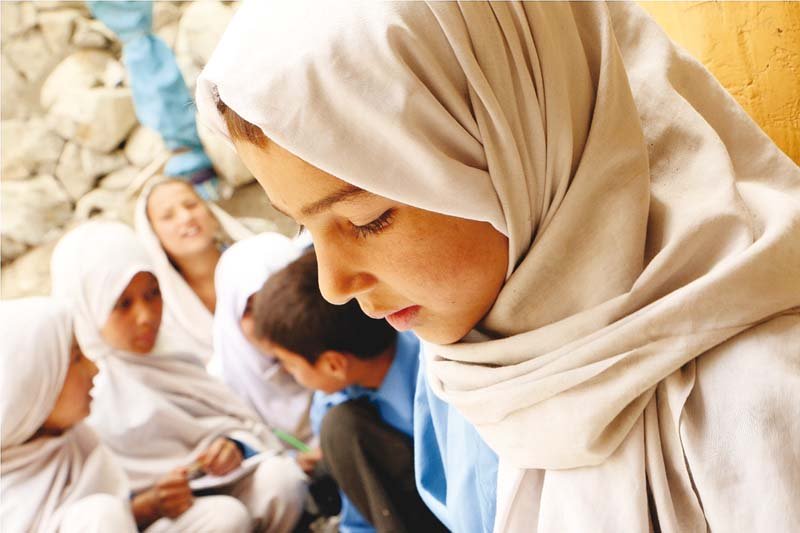 ---
'To be in the mountains' is often used as a euphemism to join the Baloch separatist movement or the insurgency in Fata. But far from embracing the sword, the people of the Sadpara area of Baltistan are learning the power of the pen, thanks to a non-governmental organisation Inspire Initiative, which celebrated its first year anniversary on June 13.

The Inspire journey started back in 2007 when British-Pakistani Bushra Farooqui visited Baltistan for the first time with a group of trekkers from the UK for a charity trek to K-2 Base Camp. "From then on, I continued to visit for various trekking expeditions, but it wasn't until 2010 that we decided to give back to the hospitable community by supporting girls education in Basha Valley, a very remote part of the region." In 2011, 60 girls were given primary education at the only boys school in the area. The initiative was funded by Bushra Farooqui and two other expats from the UK. The number of students soon grew to 360 girls within a span of three years.




The initiative was first aimed at only girls because parents who could not afford to send all their children to school sent boys as a priority. "We started using the boys school premises and introduced an afternoon shift for girls, bringing in female teachers, books, uniforms and other school supplies. This grew each year as we supported more girls deprived of education," shares Farooqui. Later, however, boys were also included in the initiative.





Members of the Inspire team: Muhammad Nazir, Bushra Farooqui, Ghulam Murtaza and Nisar Hussain.  PHOTOS COURTESY: INSPIRE INITIATIVE




"The motivation behind running a primary school in this beautiful mountainous region is the collective love of mountains, trekking and education," says Farooqui, who relocated to Dubai recently to keep a close eye on the running of the school. As a result of the initiative's mounting success, it was given a formal structure and registered as a charitable organisation in 2014 to support primary education in Sadpara.

Currently, 180 children, both girls and boys between the ages of four and 14 years, are enrolled at the two schools adopted by Inspire. The children are taught English, Urdu, mathematics, general knowledge, social studies, Islamiat and science. The ratio of female to male students is 50:50 and with these two schools, Inspire is catering to at least 70% of Sadpara valley's primary school-going children, adds Farooqui.

Inspire covers all the costs, including salaries and training of teachers, school supplies, furniture, stationery, uniforms, bags and books. All the volunteers are Skardu-based and tend to the day-to-day operations of the school by liaising with the teachers and village education committee (VEC).





Students stand in line to welcome the Inspire committee members during their annual sports day.   PHOTOS COURTESY: INSPIRE INITIATIVE




According to Farooqui, Inspire Initiative plans to create a cluster of three schools per valley and will hopefully take over the running of another school by next year. "We have also shortlisted other remote valleys in Baltistan where we can easily expand in the next five to eight years. We aspire to give these children a taste of childhood while they are with us," she says.

"We have a strategic partnership with Aga Khan Education Services Pakistan whereby they provide technical support, help with training teachers, curriculum development and quality assessment," says Farooqui. Thus far, the initiative has been successful on many levels. Along with providing quality education to children in a fun and creative school environment, Farooqui says the school has created an air of excitement in the valley.





Bushra Farooqui and Pakistani mountaineer Hassan Sadpara distribute prizes among the children.  PHOTOS COURTESY: INSPIRE INITIATIVE




"Parents and community elders are often invited to attend events and meetings at the school so they too feel that they're a part of it," she says. But a lot still needs to be done to spread education in the remote regions of Pakistan and Inspire Initiative sends the message that this is not impossible.

Shabbir Mir is a Gilgit-based reporter for The Express Tribune.

He tweets @ShabbirMir

Published in The Express Tribune, Sunday Magazine, June 21st, 2015.