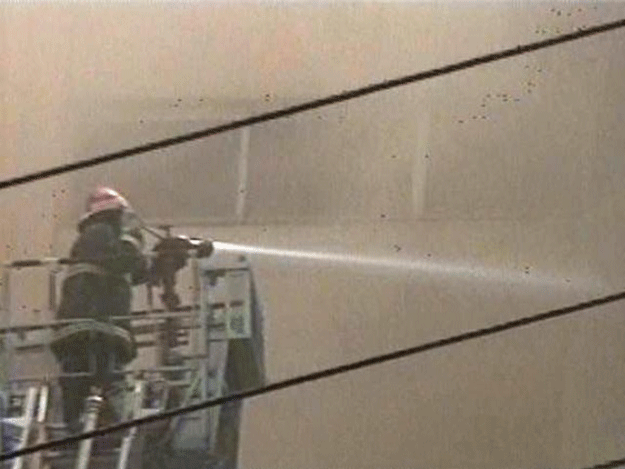 ---
LAHORE: Ten hours after a fire engulfed a four-story departmental store located in Lahore's Liberty market, a decision to demolish the walls has been passed to help rescue teams extinguish the fire completely, Express News reported Monday.

About 80 per cent of the fire has been controlled, rescue teams claimed.

According to initial reports, the fire was caused by a short circuit and fire has now spread extensively as heavy clouds of smoke expand up to Gulberg area.

Read: Fire erupts in a building near Karachi's Bahadrabad Chowrangi

Sources further added that at least 20 vehicles of Rescue 1122 and fire brigades arrived at the scene. However, being an air tight building, it has become difficult for rescue teams to extinguish the fire.





PHOTO: AN EXPRESS NEWS SCREENGRAB


According to reports, goods worth millions of rupees has been burnt in the fire.





PHOTO: AN EXPRESS NEWS SCREENGRAB


Even though everyone present in the building has been evacuated, rescue teams and people in surrounding buildings are still in danger as sources confirmed that the fire engulfed building has become extremely weak, hence increasing the possibility of it collapsing.





PHOTO: AN EXPRESS NEWS SCREENGRAB


Read: Five Pakistani workers perish in Riyadh fire

While taking notice of the incident, Chief Minister Punjab Shahbaz Sharif has ordered the admin to speed up rescue work.
COMMENTS (2)
Comments are moderated and generally will be posted if they are on-topic and not abusive.
For more information, please see our Comments FAQ