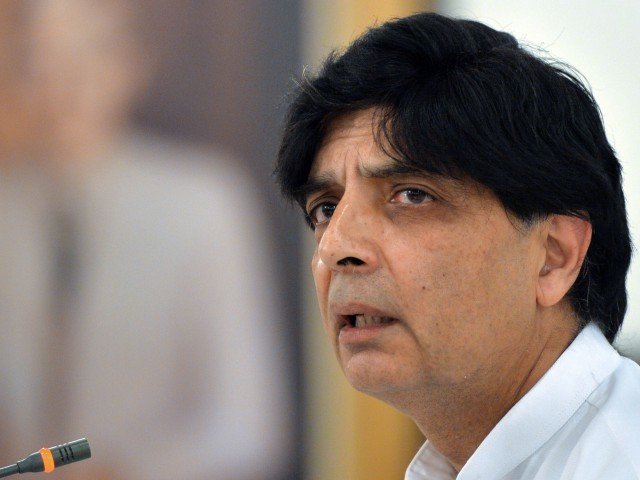 ---
ISLAMABAD:



Pakistan's security czar has said the government is working on streamlining the operations of all non-profit organisations working in the country to regulate their activities.




Speaking to reporters outside the National Assembly in Islamabad on Friday, Federal Interior Minister Chaudhry Nisar Ali Khan said a committee constituted by Prime Minister Nawaz Sharif was working on drafting new laws to set a mechanism for operations of all such organisations. PM's Adviser on Foreign Affairs Tariq Fatemi heads the committee.

He added that no non-governmental organisation (NGO) working against the country's national interest would be allowed to continue working in Pakistan. "We just want to regulate the system. We do not want to shut down NGOs, which follow our laws."

The minister's comments come a day after authorities sealed the offices of international aid group Save the Children and ordered its expatriate staff to leave the country, accusing the organisation of "working against the country".

Chaudhry Nisar said the government had started a crackdown against those NGOs, both national and international, which were involved in "anti-state activities" on foreign agenda.




He said a large number of local and international not-for-profit groups were being monitored for a long time. "We cannot allow them to continue their operations as they were doing something which was against Pakistan's interest."

The interior minister alleged that most of them were taking part in "anti-Pakistan" activities. "We welcome NGOs in Pakistan, but they need to understand our laws and constitution," he said, adding the government would not let any such group work 'under the table'.

He added that when the matter of a foreign aid group working against Pakistan was taken up in the United Nations Economic and Social Council, 12 of the 15 member countries supported Pakistan's stance, but the US, Israel and India supported the NGOs.

Meanwhile in a statement issued by Save the Children, its spokesperson said the group was willing to comply with all rules and regulations of Pakistan, but at least the organisation should be informed about the reasons behind the forced closure of its offices.

"We have been working in Pakistan since 1979 in collaboration with provincial and federal governments reaching out to over four million children directly by providing them health, nutrition and education. We have over 1,200 employees across Pakistan," he said.

The statement added that the aid group had no expatriate staff working in Pakistan and all workers had been serving communities and children with complete honesty, dedication and transparency.

The US State Department, in a statement, also expressed concern over Paksitan's crackdown on international charitable organisations and other NGOs.

"We urge the Pakistan to standardise and streamline a transparent process that will allow INGOs, including Save the Children, to work legally in Pakistan," Department Spokesperson John Kirby said.

Death penalty

Turning towards the European Union's appeal to reinstate the moratorium on death penalty, the interior minister said Pakistan would continue hanging the condemned prisoners, who had used all their legal options.

"We are up to our necks in the war against terrorists," he said. "We are in a state of war. Executions are a key part of our National Action Plan,"

With 152 executions, Pakistan has become one of the world's most prolific executioners, surpassing countries like Saudi Arabia, which has so far executed 90 prisoners, and the US, which has executed 14 people, in the past six months.

"Those pleading the case of Shafqat Hussain are maligning the country's judicial system, just for their vested interests," he claimed. He added that more than 10,000 prisoners had been declared juveniles by Pakistani courts in recent years.

The government lifted its self-imposed ban on moratorium on death penalty after the Peshawar school massacre in December last year. More than 8,000 prisoners are on death row in around 70 jails of the country.


Published in The Express Tribune, June 13th, 2015.
COMMENTS (3)
Comments are moderated and generally will be posted if they are on-topic and not abusive.
For more information, please see our Comments FAQ