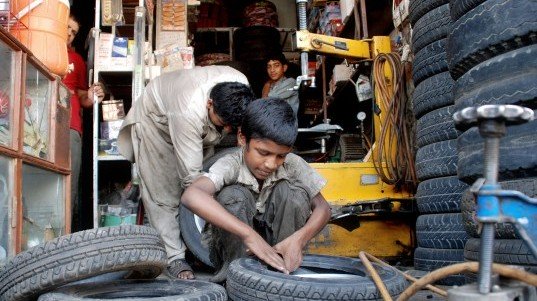 ---
FAISALABAD:



Rights activists on Thursday kicked off Red Card to Child Labour campaign to protect children from neglect, abuse and exploitation.




The campaign was launched in front of the Faisalabad Press Club to mark international day against child labour.

The demonstration was arranged by the Peace and Human Development (PHD) Foundation, Peace for Nation International (PNI), Adara Samaji Behbood (ASB), and Ever Green Foundation (EGF).

The demonstrators carried banners, placards and red cards. They chanted slogans against child labour and urged the government to take tangible steps to protect child rights.

They urged the government to set up an autonomous commission on child rights.

They said laws on child labour should be strengthened and a mechanism on ban on employment of children under the age of 14 should be enforced.

PHD Foundation director Suneel Malik addressed the rally.

He said the red card was used by the ILO to raise awareness on child rights.

"All forms of violence against children must be eradicated through legislation, access to justice and fair investigation procedures," he said.

PNI director Hashmat Barkat said the government must organise comprehensive surveys to assess the extent of child labour and to ascertain the number of homeless children in the country.

He said schemes were needed to keep children away from streets and to ensure disabilities had access to basic amenities and services.

AWAM Coordinator Shazia George said the Juvenile Justice System Ordinance 2002 should be amended.

George said it was difficult to determine how many children were employed informally.

She said labour inspectors could not monitor households where underage workers were subject to violence and hazardous work.

She said the government must ban on domestic child labour by placing it on the list of banned occupations provided under the Employment of Child Act.

Published in The Express Tribune, June 12th, 2015.
COMMENTS
Comments are moderated and generally will be posted if they are on-topic and not abusive.
For more information, please see our Comments FAQ