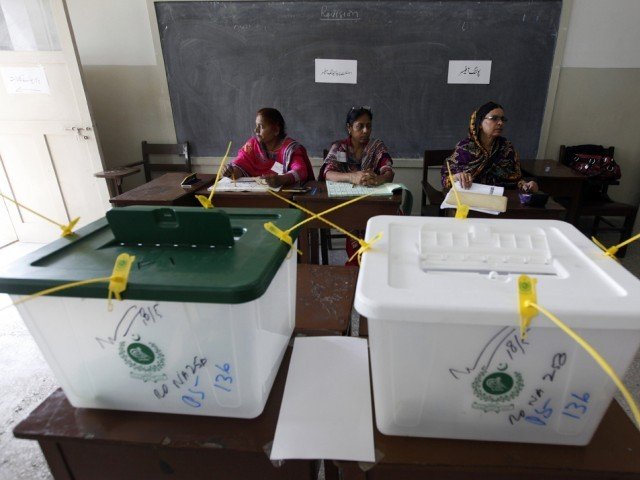 ---
GILGIT:



Pakistan Muslim League-Nawaz (PML-N) appeared to have grabbed half of the seats in the Gilgit-Baltistan Legislative Assembly (GBLA) elections conducted across the region on Monday under the supervision of the Pakistan Army.




According to unofficial results, PML-N secured 12 of the 24 constituencies, followed by two seats each for Pakistan Tehreek-e-Insaf (PTI), Majlis-e-Wahdat-e-Muslimeen and the independent candidates. One seat each was grabbed by Pakistan Peoples Party (PPP), Jamiat Ulema-e-Islam and Islami Tehreek.

PML-N regional president Hafeezur Rahman secured 10,157 votes in GBLA-2 Gilgit, followed by PPP's Jamil Ahmed with 7,415 votes. PTI's Fatehullah managed to bag slightly more than 1,000 votes. The results of 10 polling stations were yet to be received. Thirty-two thousand votes put PML-N's Jafarullah slightly ahead of PPP's Amjad Hussain in GBLA-1 Gilgit, though results of some polling stations were yet to be compiled.

In GBLA-3 Gilgit, PML-N's Dr Muhammad Iqbal was ahead of PPP's Aftab Haider. In GBLA-1 Skardu, the results pouring in showed a neck-and-neck competition between PML-N's Akbar Taban and PTI's Raja Jalal, followed by former G-B chief minister Mehdi Shah.

In GBLA-6 Hunza, PML-N's Mir Ghazanfar was ahead of PPP's Zafar Iqbal and PTI's Izhar Hunzai.

Rigging allegation

PPP candidate Amjad Hussain accused his PML-N opponent Jafarullah of rigging at one of the polling stations. "PML-N candidate's supporters carried out rigging at the Hainzal polling station." The accusation couldn't be confirmed because the officials were not available for comment. Former CM Shah didn't confirm if rigging had taken place, but he promised to talk about it later, at a more suitable time. Regarding the low count of his votes, he said he didn't know why he was on the losing track. "Ask my voters why I'm losing."

Women voters

Women in Diamer's Darel Valley cast their ballots for the GBLA polls, while the women in the adjacent Tangir Valley "voluntarily abstained".

Both the valleys of Diamer district are considered the most backward in the entire region where female literacy rate is hardly one per cent. The local jirga had imposed a ban last month on the women in the valleys, declaring voting by women against cultural and religious norms.

However, after the media highlighted the issue, the election commission of G-B had asked the administration to ensure separate polling stations for women in both the valleys.

"Women in Darel Valley cast their ballots, but not the women in Tangir Valley," said Muhammad Qasim, a journalist based in Chilas town. "Women of Tangir Valley abstained voluntarily as they had never voted," he told The Express Tribune.

He said separate female staff was made available by the administration that helped the women of Darel Valley to exercise their right to vote. However, the women in Tangir Valley did not turn up at the polling stations despite the presence of female staff.

No official was immediately available to comment on the issue. The regional office of the chief election commissioner had no idea if the women were casting their votes.


Published in The Express Tribune, June 9th, 2015.