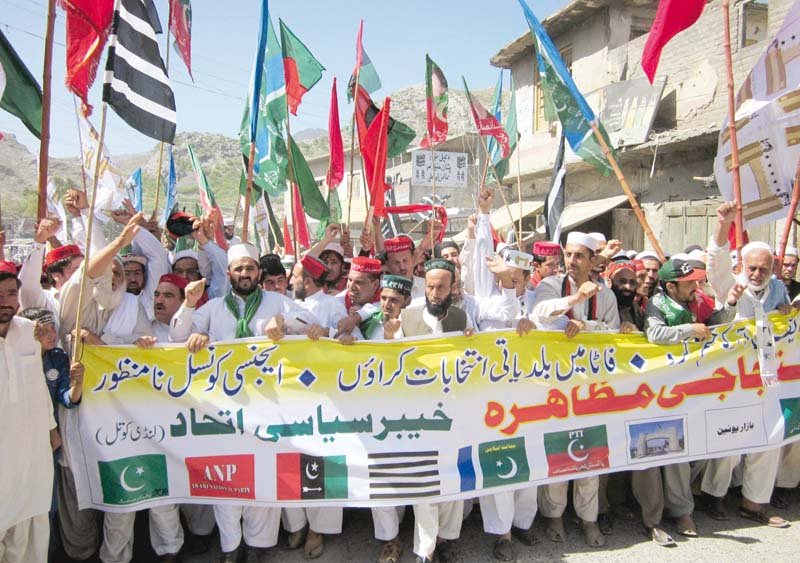 ---
LANDI KOTAL: Opposing the council system recommended for the Federally Administered Tribal Areas by the FATA Reforms Commission, leaders of various political parties have demanded local bodies' elections be held at the earliest in all seven agencies and six Frontier Regions.

"We will not go by the nominated councils headed by political agents as it means the black laws set by British colonial rulers will continue," said Jamaat-e-Islami's Sahibzada Haroonur Rashid during an all parties rally in the border town of Landikotal on Sunday. The rally was organised by Khyber Political Alliance.

A statement, agreed upon during the rally, was issued which demanded the Frontier Crimes Regulations be abolished and the extant judicial system be extended to the agencies.




While addressing the participants, Rashid said there are certain elements within the establishment which have monopolised power for self-interest, leaving tribespeople to suffer. He said they would not accept the councils nominated by the governor as "he is not a representative but is a worker of the state." Rashid added tribespeople should be given a chance to elect the representatives of their choice.

Also present on the occasion, Awami National Party leader Sardar Hussain Babak said the unity of the tribal people for their political rights is a positive sign since now their demands will not be set aside. Babak added people living in the tribal belt should get the rights afforded to people in the rest of the country. He urged the government to politicise the system in Fata as per the wishes of locals.

Other speakers echoed the agreed-upon statement, saying the tribal areas will never be able to move forward "unless people living there are given constitutional and social rights."

Participants urged the government to review its lopsided decisions regarding Fata and take steps for a better future.

Injustice

Separately, Khyber Sports Club President Merajuddin Shinwari, who was also present at the rally, said his 17 year-old brother has been kept behind bars by the Landikotal assistant political agent for the last three months and no one has taken notice yet. He said the APA did not even let his brother take his secondary school examination.

"The boy was jailed because he raised his voice against corruption in APA's office." Shinwari added the APA was hired on the basis of nepotism. He demanded the government transfer the APA at the earliest.

Published in The Express Tribune, June 8th, 2015. 
COMMENTS (1)
Comments are moderated and generally will be posted if they are on-topic and not abusive.
For more information, please see our Comments FAQ