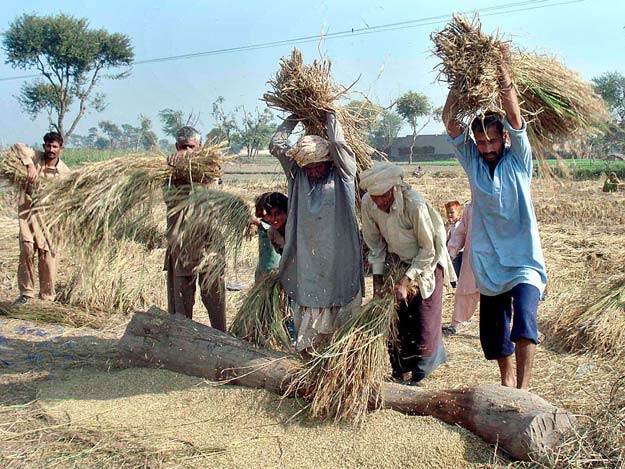 ---
ISLAMABAD: Hunger refers to the strong desire, craving or scarcity of food in a country. The number of hungry people around the world has come down considerably over the past two decades, but still 842 million continue to battle with hunger every day.

Roughly, 75% of the world's poor live in rural areas and depend on agriculture for their livelihood. An upsurge in overall population to 9 billion by 2050 will need a 70% increase in agricultural production.

In the broader context, measures aimed at tackling poverty cover multiple things eg food, income, resources, health, etc. At present, 50% of the world population, ie, three billion people, are forced to survive on less than $2.5 a day and even worse, 20% try to survive on less than $1.25 a day.

This reveals that benefits of development policies are not reaching poorer sections of the society. About 20,000 children die every day in different parts of the world due to hunger, malnourishment, lack of medicine, inaccessibility to clean water, poor sanitation, etc.

In Pakistan, one-third of the population lives below the poverty line. It is an underdeveloped country and no one can deny that its economy is variable in nature. The main reason is its political leaders who are not aware of the global system and the ways that can lead the country to the path of progress. Policies are framed on the basis of suggestions from people who really don't know in what condition a common man lives and how he earns his livelihood. The result is unsatisfactory and then another policy is unveiled that takes over the previous one and the process goes on and on.

Graft

Corruption is the major cause of poverty. Many people have just one relationship that is with money. They are busy earning more and more either in a fair or unfair way. It is said the annual income of 100 richest people in the world is enough to eradicate poverty, not just one time, but four times.

I am not suggesting that their wealth should be snatched and used to wipe out poverty but just pointing out that the assistance required is not beyond reach.

Literacy

The education level is next to nothing in Pakistan, that's why the literacy rate is very low. People don't have access to modern ways of education and they don't know the modern earning sources being used by the world today.

However, government officials and some NGOs are working on this to remove the obstacles such as Alif Ailaan. Its main goal is to get every boy and girl enrolled in schools and to ensure they receive quality education.

Calamities

Natural disasters such as floods are also a cause of hunger and poverty. Owing to heavy rains, around 16% of the land sown with the staple wheat crop submerged and the harvest is likely to be 15% lower.

Then comes poor sanitation as 50% of Pakistanis have little or no access to clean water, which results in infectious diseases. Child mortality is also high as many children die under the age of five because of diarrhoea and respiratory problems.

In addition to these, the conflict along Pakistan's northwestern border with Afghanistan has forced millions of people from their homes.

The challenges are far greater than thought. It is quite difficult to reach those living in extreme poverty in remote areas. Access to good schools, healthcare, electricity, clean water and other vital services is denied to them.

Apart from this, the people who have been able to come out of poverty face an uphill battle. Economic downturn, food insecurity and climate change threaten to deprive them of their hard-won gains and force them back into poverty.

In order to reduce poverty, the country needs to achieve higher growth based on labour-intensive industries and projects that create more and better jobs.

Secondly, the country should invest in human capital, particularly those who are not capable of taking advantage of basic services, and develop social safety nets to shield the vulnerable from conditions that can push them further into poverty such as severe weather, higher inflation and economic slowdown.

The writer is a communication officer and researcher at the Sustainable Development Policy Institute

Published in The Express Tribune, June 8th,  2015.

Like Business on Facebook, follow @TribuneBiz on Twitter to stay informed and join in the conversation.
COMMENTS (1)
Comments are moderated and generally will be posted if they are on-topic and not abusive.
For more information, please see our Comments FAQ