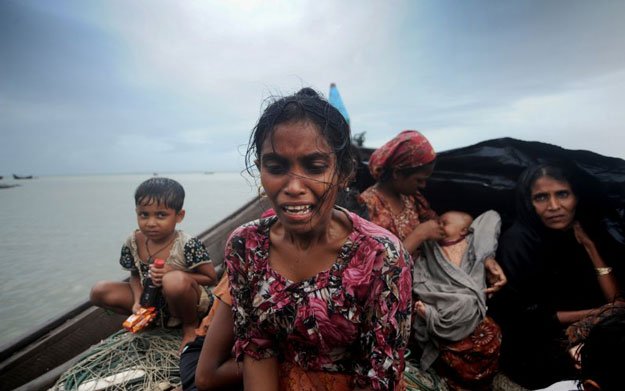 ---
ISLAMABAD: Prime Minister Nawaz Sharif constituted on Saturday a special committee to provide relief to Rohingya Muslims.

"PM Nawaz has constituted a special committee to provide relief to Rohingya Muslims and a meeting of the special committee will be held in Islamabad tomorrow," Interior Minister Chaudhry Nisar said, according to Radio Pakistan.

The committee includes Nisar, Adviser to Prime Minister on Foreign Affairs Sartaj Aziz and Adviser to the Prime Minister Tariq Fatemi to suggest measures and relief efforts from Pakistan for the Rohingya Muslims of Myanmar. The committee will meet on Sunday.

Nisar said that the premier and federal ministers had expressed their concerns over the plight of Rohingya Muslims during a cabinet meeting.

Read: Civil society urges world to save Myanmar Muslims

Further, Nisar called upon international organisations to take notice of genocide of Rohingya Muslims.

"The silence of United Nations, Organisation of Islamic Cooperation and other world bodies over the massacre of Muslims in Rohingya has raised many questions," the interior minister said.

Myanmar does not recognise its 1.1 million-strong Rohingya community as citizens, rendering them effectively stateless. Many have fled the apartheid-like conditions of the country's Rakhine state. Thousands of Rohingyas have fled persecution in boats to seek refuge in Indonesia, Malaysia and Thailand.

Earlier, this week Pakistan Tehreek-e-Insaf chairman Imran Khan  in a letter to UN Secretary General Ban Ki-moon said the 'shameful' UN silence on the issue is a testament to its failure to fulfill the basic principles of upholding human rights, says the letter.

Read: UN silence on Rohingya genocide shameful, says Imran

Further, US President Barack Obama has called upon Yangon to treat the Rohingyas as citizens to solve the root cause of the migrant crisis in Southeast Asia.

Meanwhile, Chairman Bahria Town, Malik Riaz announced a sum of Rs100 million aimed at providing relief to the troubled Rohingya Muslim community in Burma.
COMMENTS (22)
Comments are moderated and generally will be posted if they are on-topic and not abusive.
For more information, please see our Comments FAQ