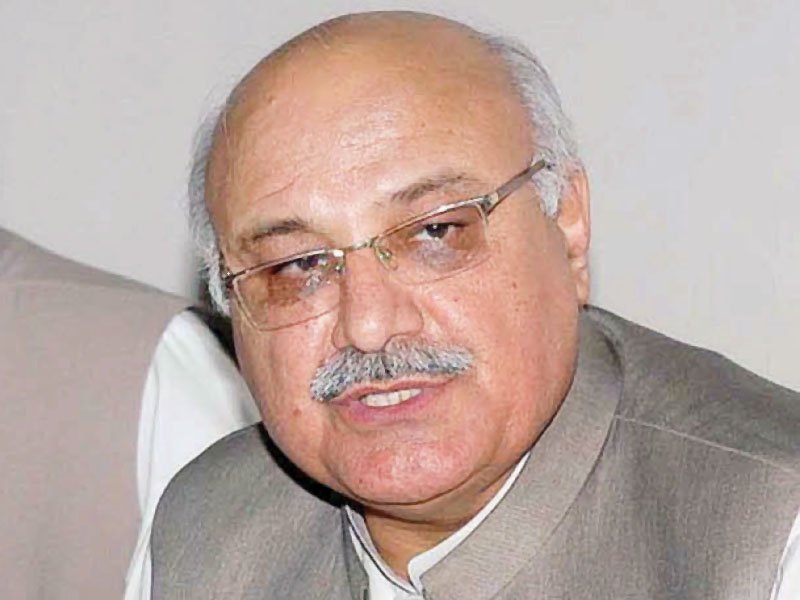 ---
NOWSHERA: Awami National Party central general secretary and ex- provincial information minister Mian Iftikhar Hussain was granted bail after he was presented before the court in Nowshera on Tuesday morning.

The case was presided over by Civil Judge Wahab Qureshi.

The ANP leader was granted bail after submitting a surety bond of Rs 0.2 million.  The father of the deceased PTI worker was brought to the court room in high security to submit his statement.

After Hussain was formally released after official formalities were completed, he visited the home of the slain PTI worker to condole his death.



Speaking to the media after getting his bail granted, Hussain stated that the FIR lodged against him was "extremely dangerous".

"If the father of the killed PTI worker did not want to lodge an FIR against me, then why was he forced into it," Hussain said, blaming the K-P government for forcing the man to lodge an FIR against him.

Further, Hussain said that the man "emerged like an angel", otherwise his fate would've been the same as former PPP leader Zulfiqar Ali Bhutto.

"The K-P government's behaviour was biased," he said.

"My unnecessary arrest should be investigated, otherwise innocent people like me will keep on getting prosecuted," he said.

Hussain took the opportunity to thank social media and politicians who vouched for him and spoke out against his arrest.

Read: ANP's central general secretary arrested over PTI worker's death

Earlier on Sunday, Hussain was arrested over the death of a Pakistan PTI worker.

A PTI worker, Habibullah, was killed during aerial firing outside Hussain's residence in Pabbi tehsil of Nowshera district in the early hours of Sunday.

"After the declaration of initial results of LG polls in the area, PTI  and ANP workers gathered in Pabbi Bazaar and members of both the parties started chanting slogans against each other," Station House Officer of Pabbi Police Shad Ali Khan said, while speaking to The Express Tribune.

Read: Pressured into nominating Mian Iftikhar in FIR, says deceased PTI worker's father

"Things went sour and Mian Iftikhar came out to tackle the situation but it was too late," he added.

The police official explained that activists of both parties resorted to aerial firing owing to which two PTI activists were injured.

Later on Monday (yesterday), the father of the killed PTI worker said he was 'pressurised' into nominating Mian Iftikhar Hussain in the case.

"Neither Mian Iftikhar nor his guards murdered my son, I was pressurised into registering an FIR against them," PTI worker Habibullah's father, Sher Alam said.

"Mian Iftikhar Hussain is our elder, I have not nominated him in the FIR," Sher Alam told journalists outside the court, adding he had recorded the statement under the CrPC 164.

After his statement, police said they may remove the former provincial information minister's name from the FIR.

According to Deputy Inspector General (DIG) police Mardan Saeed Wazir, Iftikhar's name will be removed since Sher Alam, the father of slain PTI worker Habibullah, recorded a statement under Section 169 clearing Iftikhar.

If elections were democratic, 11 people wouldn't have been killed: Bilour

Meanwhile, addressing the media, ANP leader Ghulam Ahmed Bilour said that if the elections were democratic, 11 people wouldn't have been killed, he said, holding the K-P government responsible.

"K-P CM Pervez Khattak is the secretary of Imran Khan, whatever order he passes from Bani Gala, he carries it out," he said.

Further, he expressed his dismay over Hussain's arrest and questioned why he was kept in jail for two days.