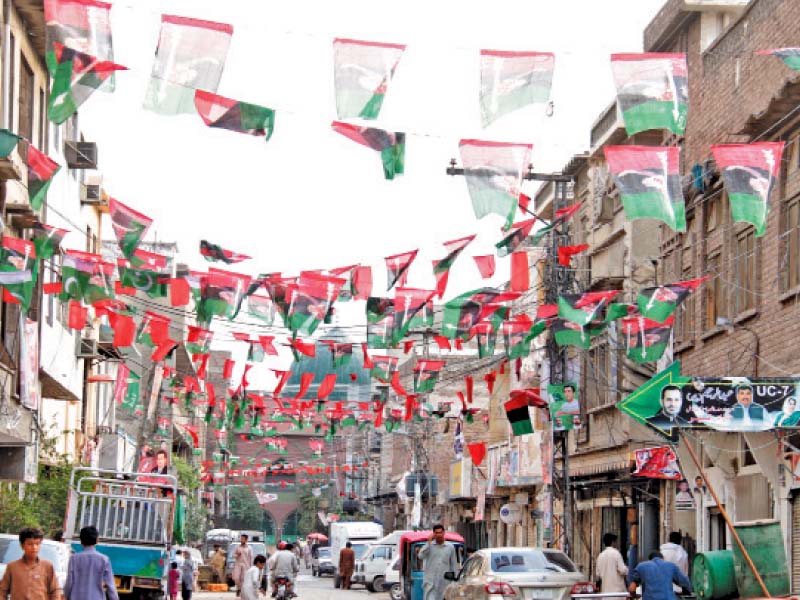 ---
PESHAWAR:



Town-I has always been considered a stronghold of Pakistan Peoples Party but in 2013 Pakistan Tehreek-e-Insaf managed to gain an upper hand in the region. 




Many believe PTI's popularity during the previous polls was a short-lived trend and voters are likely to be more realistic about who they throw their weight behind. Yet, analysts feel PTI will make a clean sweep as party workers are taking the electioneering process seriously.

But will party loyalty overtake personal networking in areas like Yakatoot, Gulbahar or Ander Sheher?

Big fancy cars

"The local government elections are going to be held on a micro or mohallah level," Ajmal Afridi, a resident of Gulbahar tells The Express Tribune. "I don't think political parties are so involved at this level." According to Afridi, the personal charm of candidates will be more important in the polls.

"Money, large vehicles and family background are likely to play a pivotal role, not a party's position," he explains. "This is because neighbourhood councils are fairly small. I think this will give all contestants a fair chance to win the polls."

Mateen Khan, another resident, claims the outcome of the polls depends more on the efforts of individual candidates rather than the party they belong to.

"Some aspirants who were allotted tickets by political parties do not want to mention their party affiliations during the electioneering process," Khan explains. "Many of them fear this will discourage voters who do not support their party's agenda from voting for them."

Party lines

Badshah Gul, a resident of Lahori Gate, has a different view.

"I think people will vote for PTI just because they are in power," he says. "People would prefer having councillors from the ruling party so their problems can be addressed easily. This is likely to be a decisive factor in the outcome of the polls."

Gul believes PTI and Jamaat-e-Islami candidates have an advantage over aspirants from other parties.

"The urban areas of the city are mostly dominated by PPP and ANP," he says. "But they are likely to have low prospects in the LG elections."

Run for its money

This is the first time PTI is contesting LG elections in the provincial capital. At this critical juncture, the party is grappling with the daunting challenge of defeating the tripartite alliance of opposition parties. As a result, it has gone an extra mile to give its rivals a run for its money.

PTI has set up an election camp in Bilal Town, Gulbahar for its aspirant for the general councillor seat from UC-9, Qasim Ali Shah.

However, PTI's rivals have also redoubled efforts to restore their previous standing.

Town-I fell to ANP and PPP in the 2002 and 2005, respectively. This time, both parties have aligned against PTI with considerable support from Jamiat Ulema-e-Islam-Fazl.

Defeating the newcomer

A senior ANP leader tells The Express Tribune voting patterns have changed significantly following PTI's growing popularity in the region.

Nonetheless, ANP City District President Malik Ghulam Mustafa is optimistic his party will sail to a win. "PTI's growing popularity has dented PPP, which is our ally," he says. "About 70% of PPP workers have left for PTI. ANP has lost 10% to 20% of its workers to the party."

However, Mustafa feels the tripartite alliance will give PTI a tough time in the elections.

"Although I cannot say we will make a clean sweep in the polls, we will somewhat diminish PTI's popularity," he adds.

Speaking to The Express Tribune, Qasim Ali Shah says PTI was initially intimidated by the alliance.

"However, once we started campaigning, we realised we did not need to worry about them too much," he explains. Shah, and PTI, is optimistic about winning the polls.

A walk down memory lane

Town-I and other three towns of the province's only city district government were first carved for the 2002 LG polls under General (retd) Pervez Musharraf. Initially, the town comprised 25 urban union councils and had an estimated population of 775,278. However, under the 2014 delimitation, boundaries were redrawn as union councils were reduced in size and turned into smaller neighbourhood and wards.

Published in The Express Tribune, May 29th, 2015.
COMMENTS
Comments are moderated and generally will be posted if they are on-topic and not abusive.
For more information, please see our Comments FAQ