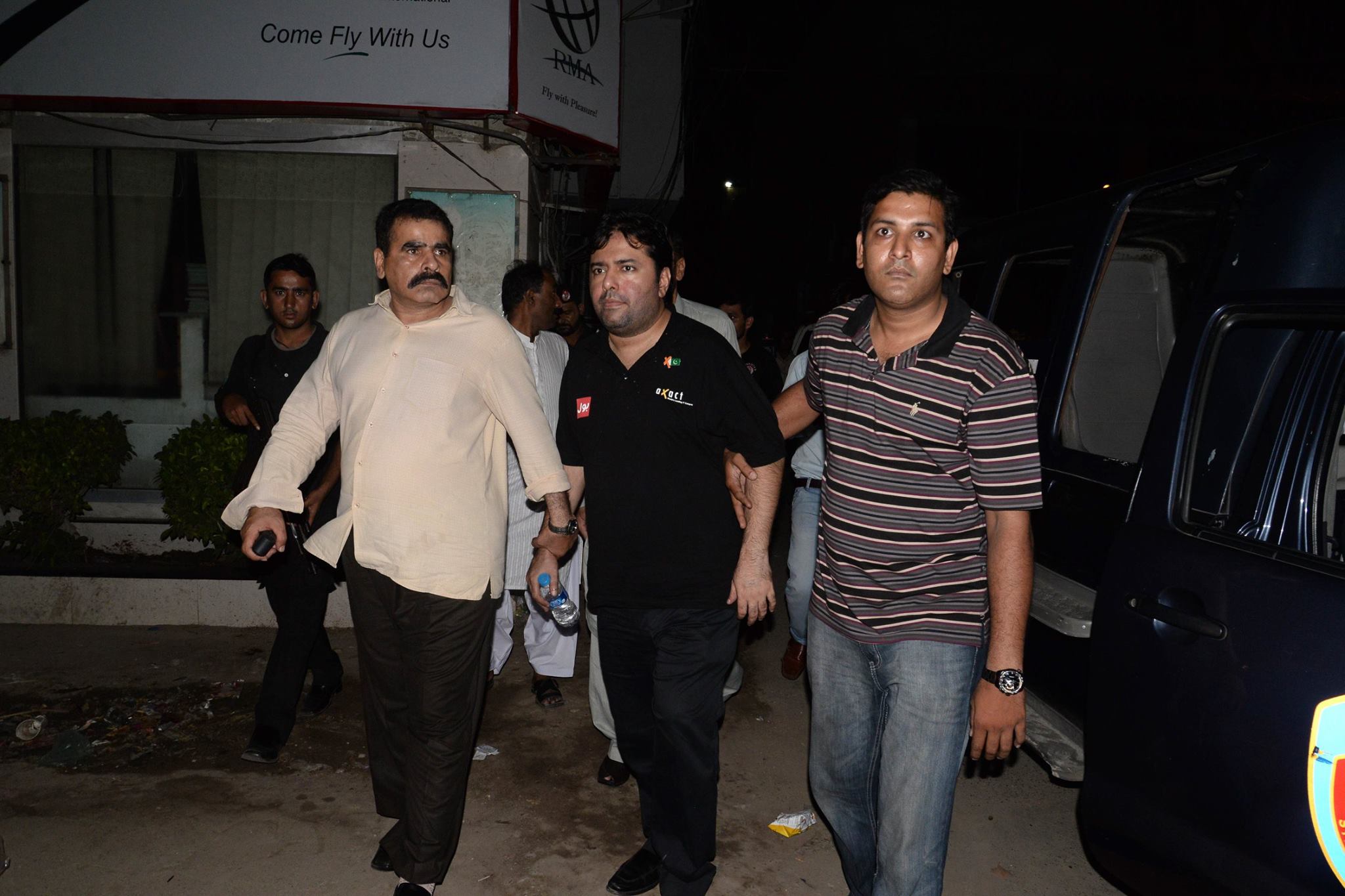 ---
KARACHI: The Federal Investigation Agency (FIA) has decided to register a case against Axact after finding 'incriminating' evidence of the firm running a fake degree empire in the country. 

FIA Sindh Director Shahid Hayat revealed that hundreds of thousands of degrees, student cards and other incriminating evidence had been found during a raid conducted at an Axact office on Tuesday.


PHOTO: EXPRESS

Axact CEO Shoaib Shaikh along with six directors of the company were also taken into custody by the FIA late on Tuesday after being questioned at the FIA head office in Karachi for hours. Further, it was revealed that Tuesday's raid took place on information provided by Sheikh. Leaving the office, Sheikh said, "The truth will prevail."


PHOTO: EXPRESS

Talking to the media late on Tuesday, Hayat said FIA had decided to lodge an FIR against Axact after emergence of 'new irrefutable evidence' against the so-called IT company.

"We found hundreds of thousands of degrees today. A magistrate was present during our raid. The location where we found these degrees also housed a printing press," he revealed. Hayat went on to add that Salman would be produced before a court for remand on Wednesday.


PHOTO: EXPRESS

The case being prepared against Axact will include sections pertaining to money laundering, fraud and cyber crime. Further, an Express News correspondent revealed that Axact office raided on Tuesday did not bear the company's name.


PHOTO: EXPRESS

Following a New York Times report exposing Axact's degree empire, Interior Minister Chaudhry Nisar ordered FIA to conduct an inquiry into the company's dubious online college websites.

Nisar also allowed the Federal Investigation Agency (FIA) to seek assistance of foreign experts to probe this scandal, he added.

Read: Pakistan approaches FBI to probe Axact scandal

On Tuesday, a former employee of Axact revealed that the company used to coerce customers into buying degrees irrespective of their academic qualification.


PHOTO: EXPRESS

"We used to telephone potential customers and tell them that they qualify for a degree of such and such university on the basis of their experience," the former Axact employee, Taha Jatoi, said in a television show on Monday.


PHOTO: EXPRESS

He said the company's sales pitch used to be that a person can get any qualification for a reasonable amount. "We had targets. Our agenda used to be getting more and more enrollments for the assigned universities," he revealed.

Unabated disclosures: Axact's ex-employee spills the beans

New York Times reporter Declan Walsh, whose expose uncovered Axact's fake degree empire, has also released documents pertaining to his investigations into the IT company's dubious online college websites.

Read: Diploma mill scandal: Walsh releases Axact investigation documents

The documents were shared by Walsh using the online file sharing service Dropbox on Saturday. They include scans of registration documents for the mailboxes of Belford High School and Belford University in Texas and California, a copy of Axact's internal publication, screen grabs from the school owner's testimony, an image of the location listed as the address for the bogus International Accreditation Organisation and scans of an article in Arab News which linked Axact with fake degrees being sold abroad.