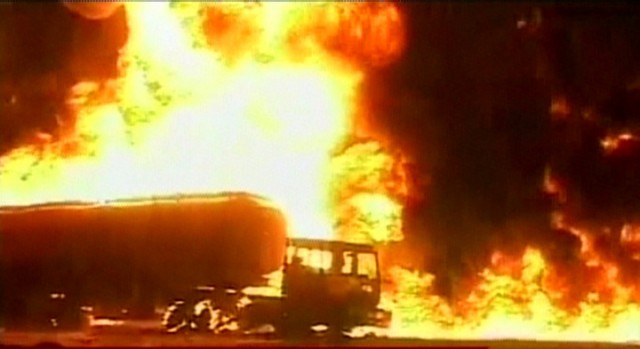 ---
ISLAMABAD: Unknown gunmen destroyed 4 tankers transporting fuel to Nato troops in neighbouring Afghanistan and killed 4 police officials in an exchange of fire on Saturday, police said.

The incident took place in Talagang town, 158 kilometres (98 miles) south of Islamabad.

"Unknown gunmen opened fire on the 4 tankers, which were parked at a gas station in Talagang town, causing a massive fire," regional police officer Aslam Tareen told AFP.

"A police patrol in the area engaged the gunmen, which triggered an exchange of fire, killing 4 policemen." He said the gunmen later fled and rescue officials were trying to extinguish the fire.

Another local police official, Abid Riaz, confirmed the incident and the death toll. He said that the fire engulfed the gas station and nearby shops.

Militants have carried out a series of strikes against supplies for US and Nato-led foreign forces fighting the Taliban insurgency in Afghanistan.

The bulk of supplies and equipment required by the foreign troops across the border are shipped through northwest Pakistan's tribal region of Khyber.

US officials said that northwest Pakistan has become a safe haven for al Qaeda and Taliban militants who fled the 2001 US-led invasion of Afghanistan and have regrouped to launch attacks on foreign troops across the border.
COMMENTS
Comments are moderated and generally will be posted if they are on-topic and not abusive.
For more information, please see our Comments FAQ