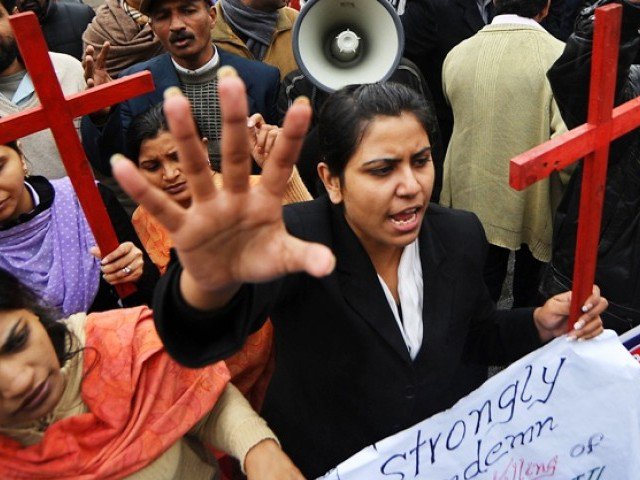 ---
LAHORE: Fear gripped a Christian locality in Lahore for a second day on Monday, a day after a charged mob of hundreds attempted to attack a church and looted houses over the alleged desecration of the Holy Quran by a member of the locality.

Humayon, the accused, was allegedly seen burning pages of the Holy Quran after which he was handed over to the police.

Following a complaint by Sayed Zeeshanul Haq, police registered an FIR against accused Humayon under section 295-B of Pakistan Penal Code and arrested him.

The complainant, Haq, told The Express Tribune that they spotted Humayon burning pages of Quran. Haq said an owner of a tea stall told him about it and they spotted him and handed him to the police.

Read: Pakistan one of the worst religious freedom offenders: US govt advisory body

"Many people gathered on the spot and some of them even tried to burn him alive, however, we saved him and handed him to the police," he added.

"Later a charged mob reached the house of the accused and recorded their protest."

The mob, some armed with deadly weapons, chanted slogans of Allah-o-Akbar also resorted to aerial firing. They looted around 15 houses in the area.

Fearing for their lives, most residents left their houses, a resident of the area Khalid Shehzad told The Express Tribune.

"Humayoun is mentally instable and does not understand the sensitivity of the matters," Khalid added.

Read: Kot Radha Kishan tragedy: Charges framed against 106 accused of lynching

The resident of the locality further said the charged protesters looted belongings from houses, broke electricity metres and also broke down doors of houses.

"Some were chanting abuses against Christians while firing," he added.

Although heavy contingents have been deployed in the locality to avoid any untoward incident but most residents have still not returned to their houses fearing a repeat of the Joseph Colony.  In March 2014, a charged crowd set 200 houses ablaze in a Christian locality over alleged blasphemous remarks by a resident of the area.

Read: Joseph Colony case: Police failed in protecting citizens, says SC

On Sunday night, police stopped the mob from torch the church and house of the accused which led to violent clashes between them and the protesters.

As the mob pelted police with stones, two contingents of Punjab Rangers were sent to the area to restore peace. The police also resorted to baton-charge after Lahore DIG Operations Dr Haider Ashraf suffered a head injury in the clashes. Five other police officials were also injured during the clashes.

An FIR in this regard was also registered at Sanda Police. The police has not yet said whether arrests would be made in this regard.

Although the alleged incident took place in the jurisdiction of Gulshan-e-Ravi Police, a charged mob led by local clerics reached the Christian locality in Dhoop Sari area where the house of accused Humayoun alias Faisal is situated.