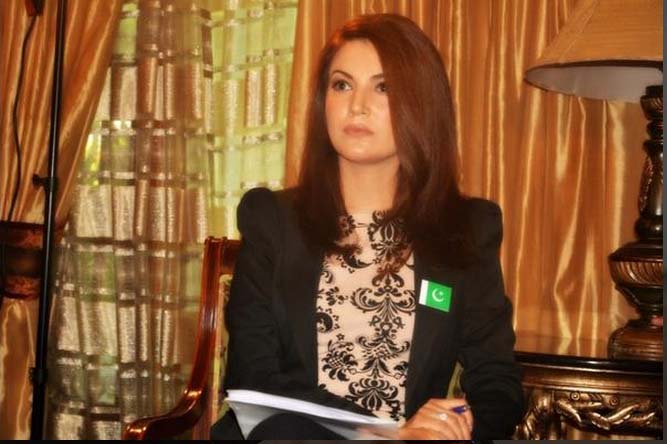 ---
LAHORE: "A leader is one who is emulated by people, is confident and is not risk averse," television presenter Reham Khan said on Saturday.

She was addressing a women leadership summit in the city. Khan said having a strong support system was the key to confidence.   "Everybody does not enjoy the privilege of having someone's support and encouragement," she said.

Khan termed this the "postcode lottery" saying children from underprivileged backgrounds tended to remain bereft of a strong support system. She said this did not mean in anyway that they were not leader material.  Khan said the realisation of hidden strengths in testing times equipped one with the confidence to lead.

She also spoke about the challenge of stereotyping confronting women especially with regard to marriage. Khan said her family had been left appalled at the way her divorce was covered by the media at the time of her marriage to Pakistan Tehreek-i-Insaf chairman Imran Khan. She said getting married was seen as a woman's chief ambition in the subcontinent.

Specifically addressing young women in the audience, Khan said it was not mandatory to conform to societal expectations. "Some rules stifle creativity, whether one happens to be a man, woman, or a child. Such rules are erroneous," she said. Khan urged them to change their circumstances. "Strive for change if you are not satisfied with your circumstances. Otherwise, stop complaining," she said.

Vocalist Hadiqa Kiani spoke about making choices that did not match entrenched gender stereotypes.   She said her mother had been her pillar of strength. Kiani said singing was not considered a befitting profession for women when she had decided to pursue the vocation.  She said her brother had extended his complete support after hearing a song recorded by her. Kiani said her family was cognisant of her passion for music and were able to appreciate that this was what she had been made for.

Kiani also shed light on her decision to adopt a child and become a single mother. She said she had been initially advised against this as it did not augur well for remarriage prospects.  Kiani counselled young women to follow their heart and make brave decisions without letting social norms get to them.

Abacus Consulting Human Capital Excellence Executive Director Fatima Asad-Said presented a study regarding the participation of women in the corporate sector. The study, conducted across 28 countries, revealed that women had only 28 per cent of leadership roles in the 64 companies covered in the study.

She said the disparity could be attributed to several reasons including the fact that the personal life cycle of women differed from that of men. Asad-Said said talent management initiatives taken by companies did not take into account the fact that women were expected to shoulder the responsibility of being care-givers as well. "It has been proven by various studies that gender diverse-companies perform better," she said. Asad-Said said that women needed to be treated as assets and space should be made and retained for them.

Actor Simi Raheal spoke about the way women were portrayed in the media. She said actors, writers, directors and anchors had to be trained to become gender sensitive as the media had a significant impact on society.

The summit was organised by the Nutshell Forum in association with the All India Management Association.

Published in The Express Tribune, May 24th, 2015.