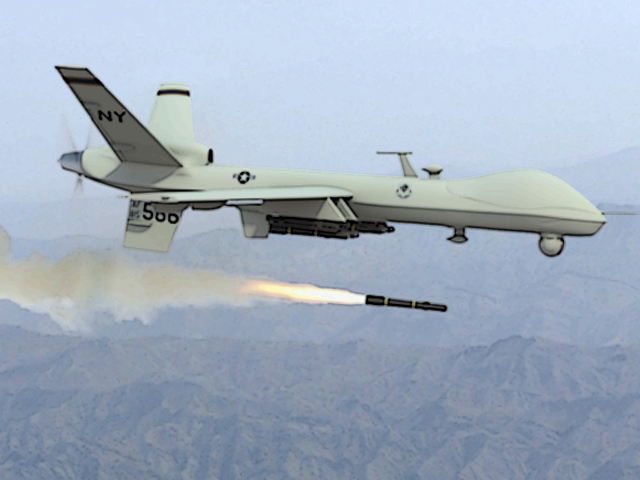 ---
The steam seems to have gone from the protests made every time American drones kill suspected militants anywhere in the conflict zone, which for American drones is limited to the tribal areas of Pakistan. Large-scale street protests orchestrated by political parties and, occasionally by religious leaders, are a rarity now and although there is some faint media coverage of the strikes, there is less of the indignation and the sense of wounded pride. Just as the protests against American strikes have faded, the silence surrounding our own precision strikes made with conventional aircraft continues. Both drones and jets have been in action in the last week. Six militants were killed and two wounded in a US drone strike in the Shawal valley on May 16. A remotely piloted vehicle (RPV) fired two missiles into a house in the Warokey Mandi area of the valley, demolishing it and killing those inside.

There is no independent identification of the casualties or any explanation as to why they were targeted. There was apparently no attempt to shoot down the RPV that was in violation of our airspace, and there is also no report of this or any other government ever attempting or even threatening to shoot down American drones operating over Pakistan. Pakistan has, and always has had, the capacity to take down any American RPV that might appear in our skies. The implication, as ever, is that there is a tacit agreement between Pakistan and the US that American drones can operate at will, and strike targets that may or may not have been identified on the basis of intelligence gathered by Pakistan and shared with America.

That Pakistan has the capacity to both gather intelligence on terrorists and hit them in the same area in which the US drones operate is exemplified by strikes by our own air force, also in the Shawal valley, on May 20. It is reported and again with no independent corroboration that "at least 15 suspected militants" were killed, and not a word of protest was raised anywhere, despite the fact that the air strikes carried out by Pakistan have no lesser potential for collateral damage than do those carried out by the Americans — who sometimes do get it catastrophically wrong as evidenced by the killing of Warren Weinstein earlier this year. Mr Weinstein was killed in what is known as a 'signature strike' — a strike launched in response to on-the-ground-behaviour analysed as metadata rather than intelligence relating to a specific individual.

The incidence of American drone strikes has dropped significantly since the start of Operation Zarb-e-Azb, and domestic armed drones have been developed and recently publicly tested to considerable fanfare. If the Pakistan Air Force has its own capacity for drone strikes, the question has to be asked as to why it is still necessary for American drones to strike here at all? Whilst we recognise the need for absolute secrecy regarding drone targeting, be it Pakistani or American, the complete lack of transparency about the protocols and rules-of-engagement that must be in place for the American drones to operate here at all does nothing for public confidence.

With our own armed forces operating against terrorist groups along the border regions and doing so with sufficient success to allow the return of some of those displaced by the operation — just why are American drones still over Pakistan? Perhaps, it is time for questions to be asked in parliament, and not only relative to drone strikes but about other aspects of the long war against terrorism and extremism, a war that seems to have no end point as both terrorism and extremism are never going to be eliminated by military might alone. Drone wars have always been in the shadows, but the time may be right for a little light to be shed, and for the government to bring some clarity to an otherwise opaque issue.

Published in The Express Tribune, May 24th, 2015.

Like Opinion & Editorial on Facebook, follow @ETOpEd on Twitter to receive all updates on all our daily pieces.
COMMENTS (3)
Comments are moderated and generally will be posted if they are on-topic and not abusive.
For more information, please see our Comments FAQ