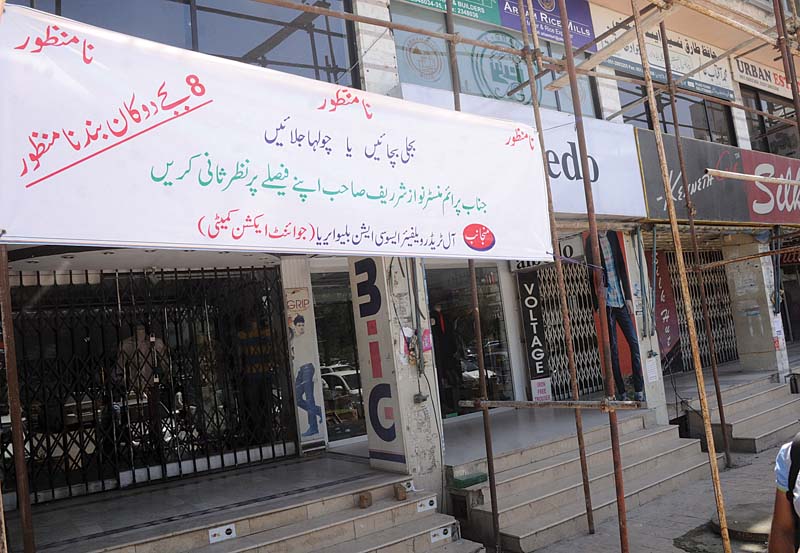 ---
ISLAMABAD:



An amicable solution for the early shutdown order for businesses in Islamabad seems to have been reached, as market closure times have been stretched by an hour, while restaurants have been exempted from the order.




"Prime Minister Nawaz Sharif has accepted the demand of the business community and extended shop closure time until 10pm," MNA for Islamabad Dr Tariq Fazal Chaudhry said on Friday at a press conference at the Islamabad Chamber of Commerce and Industry (ICCI).

He said restaurants have been exempted from the order, while the closure time for marriage halls remained unchanged --- 10pm. Pharmacies had already been exempted.

Chaudhry said the prime minister had taken note of the reservations of traders and relaxed the deadline by an hour.

Besides, the government has also announced it would ensure uninterrupted power supply to markets from 6pm to 9pm. The traders have been directed to use generators or UPS if there are power outages in their areas after 9pm.

Chaudhry also appealed to traders to cooperate with the administration and adhere to the 10pm closing time.

Traders Joint Action Committee Chairman Abdul Rauf Alam and ICCI President Muzzamil Hussain Sabri thanked the prime minister and Chaudhry for considering and accepting their demand.

A meeting of the Cabinet's Energy Conservation Committee chaired by the premier on April 8 had decided to close markets early in a bid to conserve energy. The meeting had decided to close shops by 8pm and restaurants by 10pm. Traders' bodies, however, rejected the order and later also observed a complete shutter-down strike for a day.

Chaudhry held talks with the traders at the ICCI and agreed to extend the time by an hour as a temporary fix.

The traders, however, insisted that the government extend the deadline to 10pm and urged the prime minister to take notice. Chaudhry said the PM had directed him to hold talks with the traders and address their concerns, which resulted in Friday's agreement.

Later talking to The Express Tribune, ICCI President Muzzamil Hussain Sabri said restaurants had been exempted as Ramazan was just around the corner. He also said that pharmacies are not bound to adhere to the closing times.

Islamabad Chamber of Small Traders and Industry President Kamran Abbasi said they had also been assured of a meeting with the prime minister soon to discuss other issues facing the capital's business community.

Published in The Express Tribune, May 23rd, 2015.