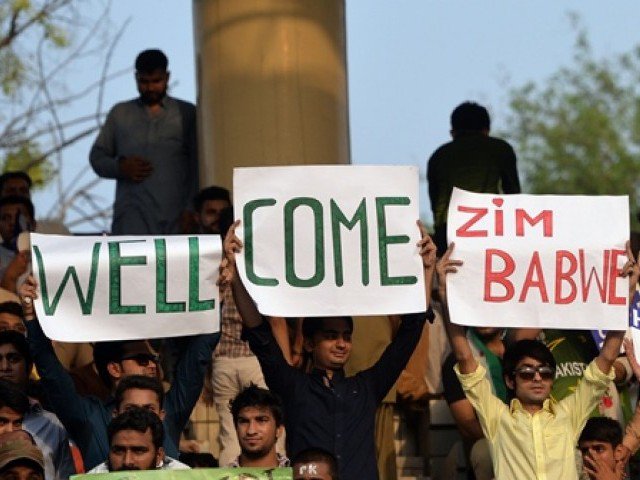 ---
From Pakistan's most popular fan Chacha Cricket to the head of State, a nation of 200 million celebrated the return of international cricket in Pakistan for six years on Friday.

Hundreds of fans battled the 42 degree heat and stifling security checks in long queues hours before the start of the Twenty20 international against Zimbabwe at 7pm local time (1500GMT).

President Mamnoon Hussain was among the sold-out 27,000 crowd at the Gaddafi Stadium in Lahore.

Pakistan's number one fan Sufi Jalil, famous as Chacha Cricket summed up what the day meant to him.

"I am born again today," Jalil told AFP before the start of the match, waiving the green and white Pakistani flag.

"It's the happiest day in my life as I waited for 2269 days to be exact from March 3, 2009 to this day.

"We want to give the message that Pakistan is a country of peace-loving people and a few people who have negative thoughts will not get success in their efforts and that Pakistani flag will wave like this always," said Jalil.

Ever since the Zimbabwe team's arrival there were stringent security arrangements with 2,000 policemen guarding their hotel and the route to the stadium.

Fans were advised to reach the ground four hours before the scehduled start of the match, but that still failed to dissuade them from watching the match.

"I had to go through seven check points but I am still happy," said Uzair Ehtesham, watching the historic proceedings from Imran Khan stands, named after Pakistan's legendary paceman and captain.

The match has created a frenzy in the cricket-mad country, deprived of watching their stars on their home grounds as Pakistan played all its home matches on the neutral venues of United Arab Emirates.

Another well known fan Chacha Twenty20 Zaman Khan was on hand to watch his team after buying a ticket on the black market.

"I came from Dubai yesterday to watch this momentous match," Zaman, who drives a private car, told AFP.

"This is my first match in Pakistan as I have been watching all matches outside Pakistan."

"It was difficult to go to the neutral venues as it needed a lot of money which I couldn't afford," added Jalil, who regularly visited UAE on various sponsorships.

And with Chacha around, fans gathered to have his autograph and asking him where he was going to sit.

"We are here to celebrate the return of cricket and want to sit in the same stand as Chacha," said Ambreen Khan, am 'O' level student.

"These are unforgettable moments and we hope and pray this remains the same."

Test captain Misbah-ul-Haq was also ecstatic.

"I am thrilled," said Misbah. "These are good times for Pakistan cricket and although I am not part of the Twenty20 team I am feeling like I am playing."

Misbah, appointed captain in 2010, had never led his country out in a home match.

"This is something I miss but I hope and pray that soon we have a full Test series in Pakistan."

Jubilant fans and celebrities also took to Twitter to express excitement as the game began. Here are some tweets that truly demonstrate how today's T20 is really more than just a cricket match:


Damn this is all so sentimental! May this be the beginning of better times for Pakistan. & a massive thank you Zimbabwe! #CricketComesHome

— adnanmalik (@adnanmalik) May 22, 2015
#urainge #cricketcomeshome. pic.twitter.com/Y3J7kf9OLd

— Ali Zafar (@AliZafarsays) May 22, 2015
Geared up for an awesome summer of #Cricket in #Pakistan #PAKvZIM #CricketComesHome #TheRealPCB @iamShaniera pic.twitter.com/Ow0Yhwda0u

— Wasim Akram (@wasimakramlive) May 22, 2015
Team Green Blood Green Base Green Theme Green Alhamdolilah. Thankyou Pak Thankyou Zim for taking these black clouds away. #cricketcomeshome

— Ahmad Shahzad 🇵🇰 (@iamAhmadshahzad) May 20, 2015
Indeed historic !!!! Anwer Ali delivers the first ball on Pakistan's soil after SIX years !!!! Great feeling.. #CricketComesHome

— Asif Khan (@mak_asif) May 22, 2015
Surreal feeling #CricketComesHome pic.twitter.com/IbUV51PAn6

— Jarrar Shah (@jerryshah) May 22, 2015
He seen every game at Qaddafi stadium.. Salute.. #CricketComesHome pic.twitter.com/j863jkTO4p

— pakteahouse (@paktea) May 22, 2015
Fantastic scenes in Lahore as international cricket returns to Pakistan for the first time since 2009: http://t.co/5AKroWJMKz"

— Crypto Hustle | AMA+Space (@CryptoHustle21) May 22, 2015
Crowd going nuts. Absolutely electrifying. Ufff yaar I missed this :')

— Ahmer Naqvi (@karachikhatmal) May 22, 2015
A temple called Gaddhafi has come alive again...

— Ahmer Naqvi (@karachikhatmal) May 22, 2015
COMMENTS (2)
Comments are moderated and generally will be posted if they are on-topic and not abusive.
For more information, please see our Comments FAQ